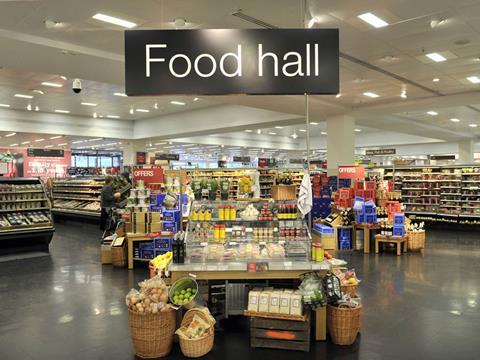 Marks & Spencer insists it has no plans to increase its SKU count despite moving to devote half its range to food.

Hampered by falling clothing and general merchandise sales, M&S CEO Steve Rowe this week revealed a bold turnaround plan that will reduce its current ratio of two thirds general merchandise to one third food to a 50-50 split over the next five years.

Amidst plans to close 30 full-line stores (clothing, home and food) another 45 will downsize or be replaced by standalone Simply Food stores, in line with a plan announced in April to open 200 new Simply Food stores between 2017-19, in addition to the 250 food stores it will have opened in the three years to March next year.

"Doing this will shift our two thirds clothing and home allocation closer to 50:50 between clothing and home and food," said Rowe when revealing half-year results to 1 October.

In food M&S currently has 130 Food Halls, averaging 9,000 sq ft; 236 owned Simply Food stores of around 4,000 sq ft; and 356 franchised stores of 1-2,000 sq ft.

M&S indicated formats would remain the same size, with no plans for fully-fledged supermarkets.

"There are no plans to move away from these formats or to increase the 6,000-7,000 SKUs of our full food offer," he added.

"There continue to be many areas where M&S is underrepresented and where we believe we can trade profitably," said Rowe. "Moving forward it's simply going to be more of the same. The formula is successful and it's delivering results. And convenience will remain at the centre of our approach whether through an accessible store, food to order or a truly convenient product."

In its half-year results, underlying profits plunged 18.6% to £231.3m in the half year to 1 October while pre-tax profits almost halved to £25.1m. Group revenues nudged up 0.9% to £4.99bn due to food sales increasing 4% boosted by 21 new stores, but food like-for-likes slipped 0.9%. Rowe said M&S's growth in food meant its suppliers could continue to invest, like Greencore had with a state-of-the-art new sandwich making facility now supplying it with "market-leading products".

However the move has divided suppliers. "I like what M&S are doing in food. They are on a good path. Clearly we are right in the middle of that food strategy so we see a lot of what is happening," said one major supplier. "Steve is a good guy with an incredible grasp of the operational levers and he has the big advantage of a stable, motivated, loyal top team in food."

However another supplier warned it would leave M&S more exposed to the major supermarkets, who are ramping up their premium offers.

"It's a real case of déjà vu. It's Luc Vandevelde circa 2000. He's closing international, growing food - the one bit that's really working for him - and compressing GM. The problem with that strategy under Vandevelde was profits in the food division went down as it was challenged by the rise of Tesco Finest, Sainsbury's Taste the Difference and so forth. And when I look at the new Morrisons ads, which look more M&S than M&S, and the fact that Tesco is putting more effort into its Finest range, the big four could make it much more difficult all over again," he said.