Jimmy's Iced Coffee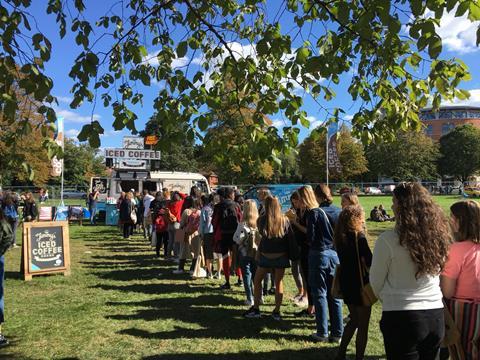 Jimmy's Iced Coffee was born after founder Jim Cregan discovered iced coffee whilst road tripping around Australia. Cregan teamed up with his sister Suze, who owned a café at the time, and suggested they team up to make their own iced coffee, as he "wasn't content with the sickly sweet offerings in the UK". It launched in Selfridges in 2011.
The brand got into festivals because it was a cheap, sometimes free, inroad into getting in front of crowds. "In my previous role, I used to work a lot on music festivals, so I have got a lot of contacts," says Cregan. "At the beginning we did Goodwood Festival of Speed, Bestival, Lovebox, Beach Break Live (a student music festival in Wales) – they were all really fun.
"You've got a captive audience who are all there for a good time. Iced Coffee is a pretty good hangover cure, and it's nice to offer them that in the morning, then as you get into the afternoon, you offer them a White Russian cocktail, which is our iced coffee with vodka and coffee liqueur."
Hooch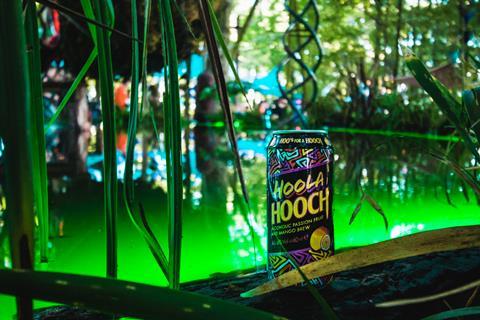 Hooch is an alcopop that was most popular during the mid-1990s. It was reintroduced to the UK by Global Brands in July 2012. The formulation of 4% ABV, keeps as close to the original recipe as possible containing real fruit juices.
The brand takes its "Hooch Hut", double decker bus and deckchairs to big festivals such as Boomtown, Forbidden Forest and Beat-Herder. Thomas Bennett, trade marketing controller at Global Brands says: "Aligning key festivals to the brand's target audience ensures consumers interest is peaked at busy events."
Hooch often brings along influencers to festivals to further activate on the stands, utilising them for Instagram takeovers, photo opportunities and handing out free Hooch merchandise. Bennett says Hooch's "bold and Instagrammable branding" is key to raising brand awareness at the event and beyond.
The brand as a whole sees a 46% uplift in sales during the summer months.
Eat Natural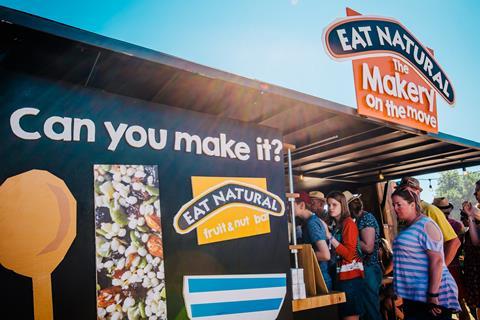 Fruit and nut bar brand Eat Natural has traditionally been a "shy" brand. However, last summer it opened up its business for the first time at various UK food event and music festivals – including Eroica Britannia in the Peak District, Latitude, On Blackheath and Liverpool Food and Drink Festival – to celebrate the 21st birthday of the brand.
The brand created a pop-up version of its Makery to allow visitors to create their own unique bars, complete with dipping and an array of different toppings such as dried fruit, strawberry dust, cocoa nibs and desiccated coconut.
Through this mobile Makery, the brand hoped to capture the imaginations of the "Instagram generation", who like to personalise their lives through social media.
The workshop also played host to various sessions where guests could learn more about a specific subject such as "chocolate", "nuts" or "how you could get a job at Eat Natural".
This year, the brand will be attending Bristol Balloon Fiesta and Carfest with a similar offer.
Chase Distillery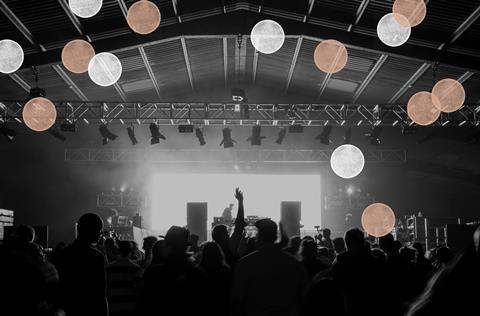 Chase is a farm and distillery in Herefordshire which has been run by the same family for three generations, and grows the King Edward and Lady Rosetta potatoes which go into Chase spirits.
The company started its own festival – Rock the Farm – in 2014, to publicise the distillery's potato vodkas and botanical gins. It has brought the festival back this year, and around 1,200 people are expected to attend. The 2014 line-up included acts such as Mystery Jets, The Cuban Brothers, Huw Stephens and The Curious Incident.
As part of the festival, father and son William and James Chase host the "Chase Cup" cocktail competition, in which they invite bartenders from around the world to compete using Chase spirits.
"At its heart, the festival is all about getting across that Chase is a unique from-scratch, home-grown operation with real integrity," the company says. "The artisanal look and feel helps Chase get its message across by conveying so much complex messaging but in a simple, unadulterated fashion. And, of course, it's important that everyone has a great time, too."
Brothers Cider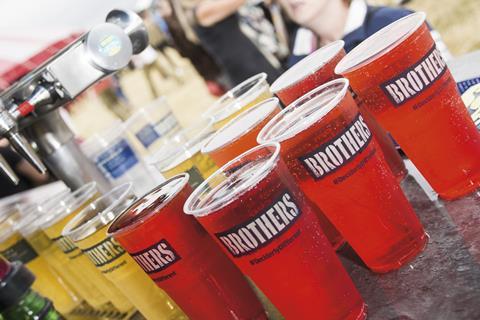 Brothers has been a part of the festival scene for 24 years since 1995. The Showering Family are friends with the Eavis family, and Michael offered them the opportunity to run a bar at Glastonbury Festival in 1995 selling Pear Cider. Over the years the bar gained a cult following. "As our Glastonbury following grew, it made sense to reach out to the more events," says senior marketing manager Emmy Webster. "Over the years we have attended most of the key UK festivals."
Among others, the brand has a long-standing relationship with LWE, and has been sole fruit cider at many of their London-based festivals. The brand also has a long-standing relationship with the Detonate Festival in Nottingham, Boundary Festival in Brighton and Gottwood in Anglesey. In total this summer Brothers Cider will be available at 30 events with a combined reach of over 500,000 consumers.
Mallets – another brand under the Brothers arm – will be the sole cider provider at Glastonbury this year. It is also expanding its festivals reach and will, in total, be at 48 festivals and events over the summer period, with a combined reach of more than one million consumers.
Pieminister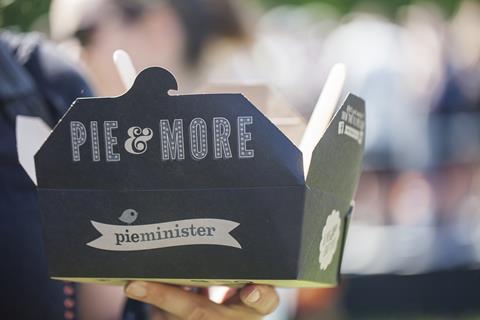 Pieminister began making pies in Bristol in 2003, and has been trading at Glastonbury since 2004, when it was invited to be part of one of the Spiegel tents. In 2005, Glastonbury experienced terrible floods, and the tent which was hosting Pieminister got struck by lightning. "Basically the whole area got shut down for a day, the whole festival was knee-deep in mud," says co-founder and managing director Jon Simon.
"The area we were in was the only bit that had any grass so lots of people came up for lunch. It put us on the map because we were one of the busiest traders in Glastonbury. There were lots of other festival organisers they who spotted us and saw we were doing a good job and getting lots of food out very quickly to lots of people. We got invited along to loads of other festivals and it became a big part of our business."
This year, the brand will be attending: Cheltenham Jazz Festival, Parklife, 2000 Trees, Tramlines, Kendal Calling, Truck Festival, Cambridge Folk Festival, Greenman, Shambala, Shrewsbury Folk and End of the Road.
Noveltea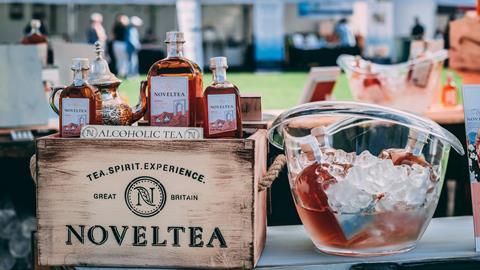 Alcoholic tea brand Noveltea first got involved with festivals when it attended Food Festival in Newcastle. However, unfortunately this was not the best experience for the brand.
"With little experience in that area, we only did one in 2017," says Vincent Efferoth, Noveltea co-founders. "With our sales director, Caroline Conroy, it was a lot easier to decide on consumer events due to her 10-year experience in that arena.
"Thus, during 2018 we did around 15 consumer events including BBC Good Food Shows, Malton Food Festival, Ripley Castle and Living North Fair. This year we will do even more – 25 in total. That includes the Windsor Horse Show, RHS Flower Show at Tatton Park and Hampton Court, BBC Good Food Show in Birmingham, Huddersfield Food & Drink Festival and BBC Countryfile Live."
When deciding which events to target, Noveltea looks at its history and experience with those festivals, the audience demographics and visitor numbers, the number of other brands in the same category, the sales potential, stand costs , location and time.
Yeo Valley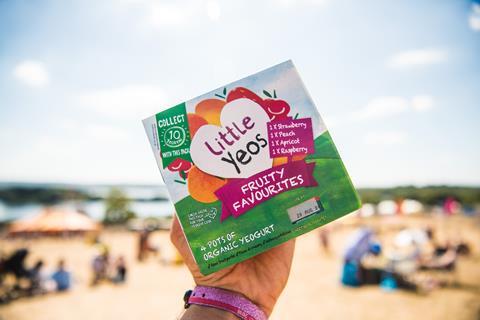 Yeo Valley was associated with Glastonbury for 15 years. The brand sponsored the tote bags and sold ice cream and yoghurts from a stall.
However, the brand has decided to step away from the world's largest green-field festival, as it wants to be a "catalyst for creating a show piece for organic food and farming", rather than being a "sideshow at the juggernaut that Glastonbury has become".
Owner Tim Mead says: "In life after Glastonbury, we discovered a local organic food and music festival – Valley Fest. We have a much bigger involvement with Valley Fest. We are the main sponsor and, therefore, can tailor our involvement to suit the needs of the brand. Valley Fest is becoming the "go to" organic festival in the UK, which is more relevant to our brand. It has much more of a family feel than Glastonbury and is in a valley off the Mendip hills – our heartland."
British Cassis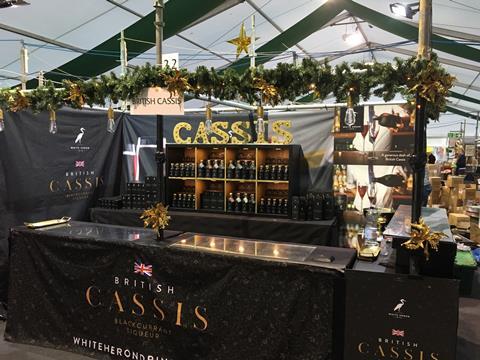 British Cassis is a blackcurrant liqueur made by White Heron Drinks. It started local with the Ludlow Food Festival and Abergavenny a few years ago, before moving to more high profile, but possibly more expensive versions.
"Shows where people go to spend money on lovely food and drink are very appropriate to us," says Jo Hilditch, managing director of White Heron Brands and the creator of British Cassis. "We recognise that our demographic is well-aligned with the gardening sector, so the RHS shows have been great for us too. Certain geographical areas we come to find are very receptive to British Cassis too, for example Harrogate and Bath."
The brand is currently building a franchise model whereby franchisees can take its liquid, point of sale and stands to go to shows and pop ups. "So far we're finding this is working well," says Hilditch.
Rude Health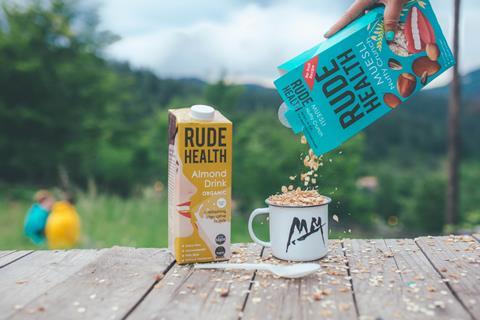 Rude Health started at the Abergavenny Food Festival, which co-founder and brand director Camilla Barnard says gave it a "platform to rant". "My husband and co-founder Nick was already ranting at every opportunity, about quality dairy, wheat varieties and farming methods," she says.
"Together we realised the entertainment value of ranting and created a stage to host the Rude Health Rants, opening up the mic to chefs, food entrepreneurs, producers and writers to share bitesize, witty and entertaining rants all about their food industry frustrations. In 2018 we finally declared that we were all ranted out."
Since then, the brand has focused on feeding people and have taken part in family-focused festivals such as The Good Life Experience and Curious Arts. These, it found, have been perfect for tastings on a large scale and consumer research.
"The ultimate goal for us is to host a Rude Health festival," says Barnard. "We [currently] target festivals with a similar demographic. We then create an annual festival plan making sure that each festival we attend is in rude health and serves a different purpose."