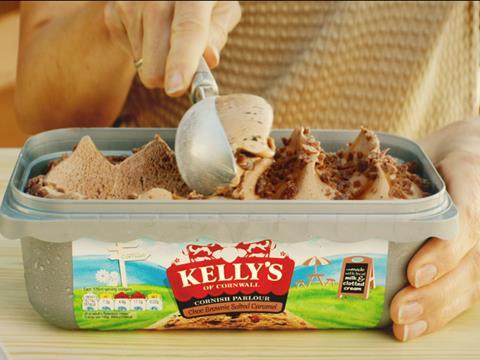 Love it or hate it, Marmite's massive success in the UK says something about who we are as a nation. And the fact that people from other parts of the world think we're one nut short of a peanut butter and jelly sandwich for being obsessed with it only serves to strengthen the loyalty of those who love it.
So how do certain brands find their way into the hearts and minds of the nation? Supermarkets are full of products we can't imagine life without – Bisto, Lea & Perrins, Birds Eye fish fingers. They're not just category leaders, they're national treasures.
Since we started working with Kelly's of Cornwall in 2016, we've helped move the brand from an ice cream much loved by locals to one that's appreciated across the UK. We learned a lot along the way – so here are our top 10 tips for finding your brand's inner national treasure.
1. Look beyond the expected
It's tempting to play it safe – traditional depictions of certain regions, for example. But it's important to go deeper than that and express something unique about a brand's cultural backdrop.
2. Get your budget to work as hard as possible
It's not about big budgets and slick production. Look at Häagen-Dazs or Carte D'Or – they could be from anywhere. Take advantage of existing but as-yet unsung assets - and a smaller budget needn't hold you back.
3. Understand where you're coming from
Marmite's from Burton-on-Trent, Walkers comes from Leicester, Lea & Perrins from Worcester… They all have a back story, either rooted in location or simply Britishness. All of that needs to be celebrated to make its way into the consumer consciousness.
4. Be trend aware
Being a national treasure isn't about being stuck in the past. Cornwall is now seen as a modern, hip destination – we positioned Kelly's to join that vanguard of entrepreneurial brands coming out of the region, like Sharp's Brewery and Origin Coffee.
5. Know your mission – and your enemy
Our mission was to turn Kelly's into a national treasure with cross-generational appeal, and our enemy was chintzy old Cornwall. Determine what you want to move away from and where you want to go.
6. Understand your USP
It could be reputation or a founder story – it doesn't have to be where you're from. Bernard Matthews led the charge for his 'bootiful' turkeys. No one cares where Robinsons squash originated, but we can't imagine Wimbledon without it.
7. Balance innovation and nostalgia
There's nothing wrong with a bit of nostalgia but keep an eye on trends. The Oxo cube used to celebrate the traditional family mealtime, with mum at the stove and dad at the head of the table. Today, this former category king struggles in an increasingly innovative space.
8. Be committed
It's not enough to shoot a great ad. Every touchpoint needs to be branded, including point of sale, sampling and trade activity. Keeps things varied, fun and, most importantly, live.
9. Know who you're talking to
What works in Germany and France might fall flat over here. Marmite's 'Love It or Hate It' campaign couldn't come from any other country – it taps into a particular strand of self-deprecating Britishness.
10. Some things are better left unsaid
Have an understated confidence in your brand's unique attributes. Lea & Perrins and Marmite don't shout about their Britishness, they just are.
By Jamie Williams, Partner at creative agency isobel