As the world's biggest companies give their social media logos the rainbow flag treatment, these grocery brands are opening their purses to address the issues facing the LGBTQ+ community
Take a look at the brands making a difference, including Asda donating £100,000 to stamp out LGBTQ+ bullying in schools, BrewDog partnering with MindOut to launch a Pride lager, and Lily's Kitchen donating 100% of profits from its new Love & Pride range to MindOut
Aldi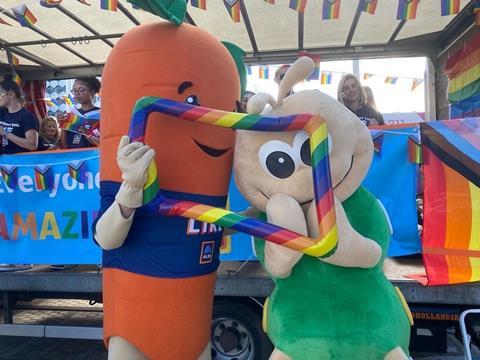 Aldi is participating in various Pride events across the UK this year and colleagues are invited to join the Aldi float in its area. Pictured are Aldi mascots Kevin the Carrot and Cuthbert the (controversial) Caterpillar at Birmingham Pride last month.
Asda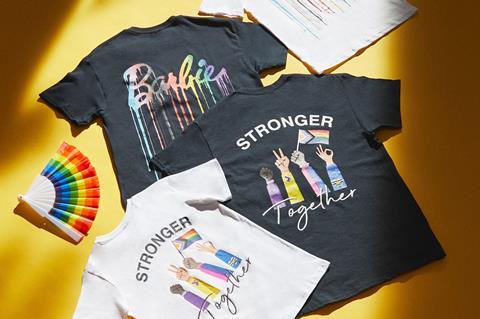 Asda is to donate £100,000 this year to support Diversity Role Models in a bid to end LGBTQ+ bullying in schools, through inclusion workshops in classrooms across the UK, the retailer said.
The supermarket has also partnered with Diversity Role Models to create a Pride-themed clothing range under its George brand. The company consulted with LGBTQ+ employees to help design the collection. Asda sources the range's products from suppliers in countries with laws protecting LGBTQ+ rights.
Barefoot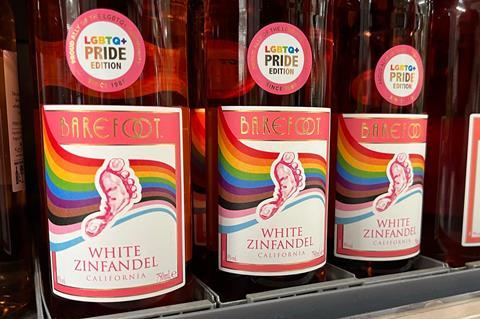 Barefoot Wine's support for the community dates back to 1988. Some 35 years later, it has launched a Barefoot Pride edition bottle which is available in all major UK retailers (rsp: £7).
BrewDog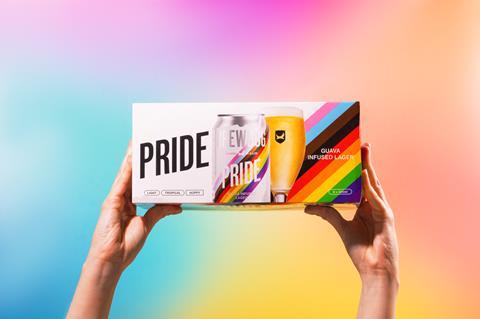 BrewDog is partnering with LGBTQ+ charity MindOut to help raise awareness of its mental health services and provide access and support to staff and customers.
As well as hosting a round-table discussion with MindOut at its Brighton bar for LGBTQ+ employees, BrewDog has launched a 4.5% guava-infused Pride lager with 50p from each sale going directly to the charity. BrewDog is also offering 100% of profits from the sales of pronoun pin badges and Pride t-shirts to further support MindOut's mission to improve the mental health and wellbeing of LGBTQ+ communities.
Brighton Gin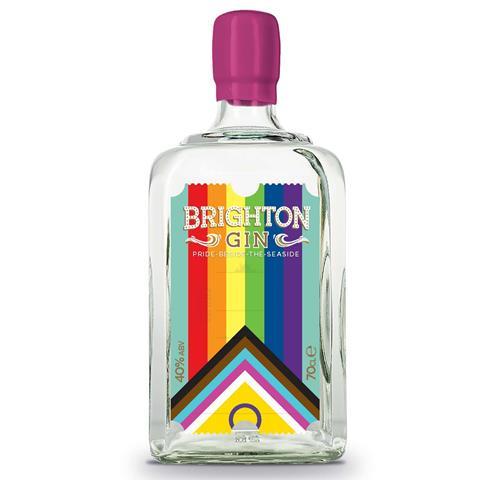 Brighton Gin has released a limited-edition Pride bottle to celebrate Pride and support the work of the Rainbow Fund, the Brighton and Hove-based grant-giving hub for local grassroots LGBTQ+ and HIV/AIDS organisations.
The new variant is available on its DTC webstore, at the Brighton i360 Shop and independent retailers priced at £39.50, with £1 from each bottle being donated to the Rainbow Fund.
Candy Kittens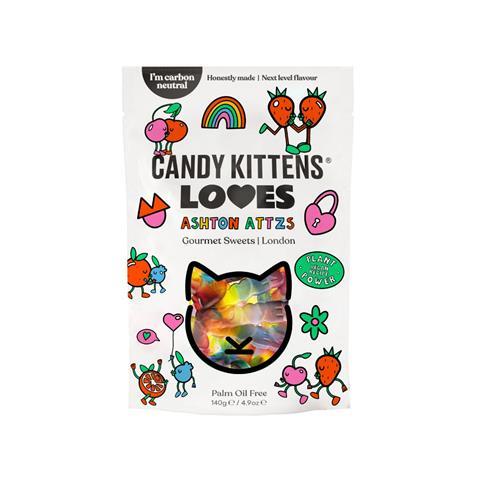 Candy Kittens has announced its latest on-pack collaboration with LGBTQ+ artist Ashton Attzs for its Loves range. Partnering with The Albert Kennedy Trust, Candy Kittens is raising awareness of LGBTQ+ youth experiencing homelessness, abuse, and rejection in the UK.
The Candy Kittens Loves range (rsp: £2.50/140g) is available from this month in Sainsbury's, Waitrose, Asda, Co-op, Selfridges, Booths, Whole Foods Market and its DTC website.
Crystal Head Vodka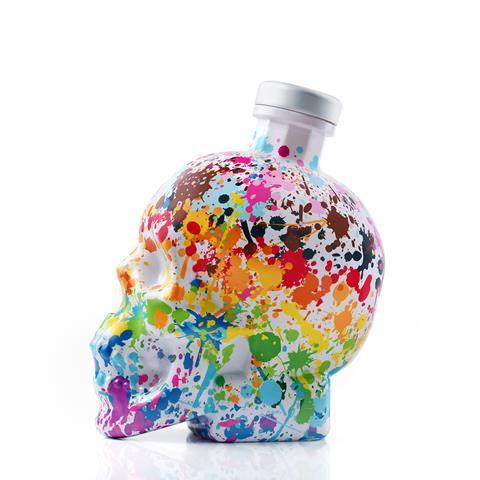 Crystal Head Vodka has launched a new 'Paint Your Pride' bottle available at Harvey Nichols (rsp: £60/700ml). Partnering with the Kaleidoscope Trust, a UK-based international LGBTQ+ human rights charity, the spirits retailer will donate a portion of sales from the limited-edition bottle.
Deliveroo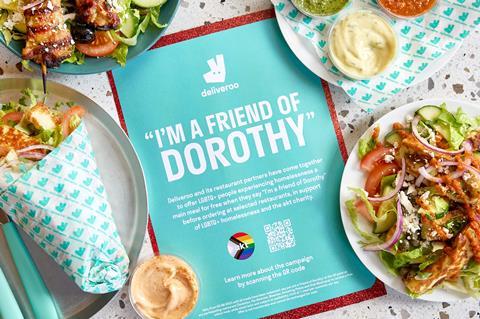 In collaboration with its restaurant partners and the Albert Kennedy Trust, a charity supporting LGBTQ+ youth homelessness, Deliveroo is launching a campaign to offer free meals to vulnerable LGBTQ+ individuals facing homelessness or struggling to afford food and shelter. Coinciding with Pride month, the pilot scheme will be rolled out across 10 restaurant locations in London, Brighton, and Bristol.
To receive a free main course and additional support resources, members of the LGBTQ+ community experiencing homelessness need only mention "I'm a friend of Dorothy" or simply "Dorothy" before placing their order. The initiative, backed by Deliveroo, has already enlisted five LGBTQ+ owned eateries, including The Athenian, Club Mexicana, Smashing Plates, Tonkotsu, and Bleecker Burger, with the goal of addressing the growing issue of LGBTQ+ homelessness in the UK.
Lidl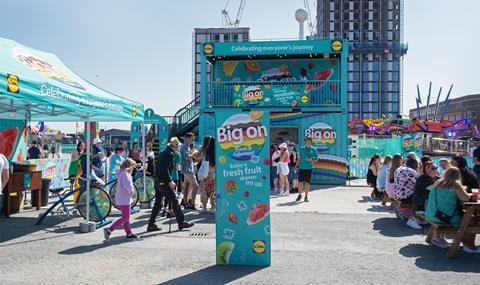 Lidl sponsored the Birmingham Pride 2023 event at the start of the month, where it invited colleagues from across the country to ride on its Lidl Pride bus.
Lily's Kitchen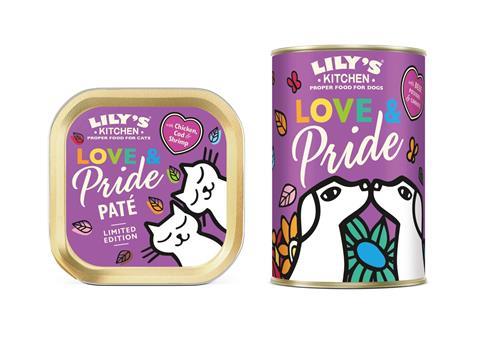 Petfood brand Lily's Kitchen is donating 100% of profits from the sales of its Love & Pride recipes to LGBTQ+ mental health charity MindOut – for a total donation of £26,000. The two new SKUs are a dog's cottage pie (rsp: £3.70/400g) and a cat's pâté (rsp: £1.25/85g), available at Ocado, Pets at Home and the brand's DTC webstore.
Madame F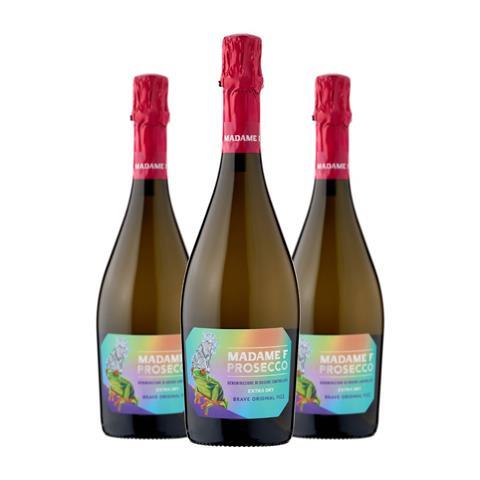 Madame F has launched a Prosecco DOC Treviso Extra Dry into Sainsbury's (rsp: £12, 11% abv). The brand was created in collaboration with LGBTQ+ charity Queer Britain.
Ocado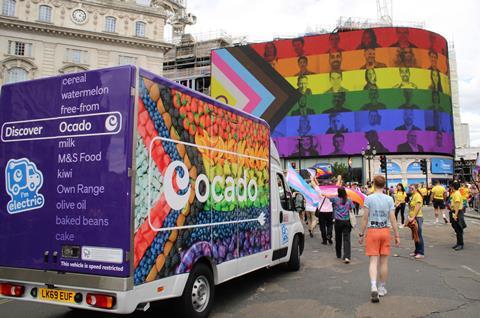 Ocado has joined Career Accelerator's LGBTQ+ business mentoring programme with five employees as mentors to students, helping prepare them for the world of work.
Ocado Retail and Ocado Group will be attending London Pride with one of its 'progress vans', which feature a likeness of the Progress Pride flag, next month.
Read more:
Popcorn Shed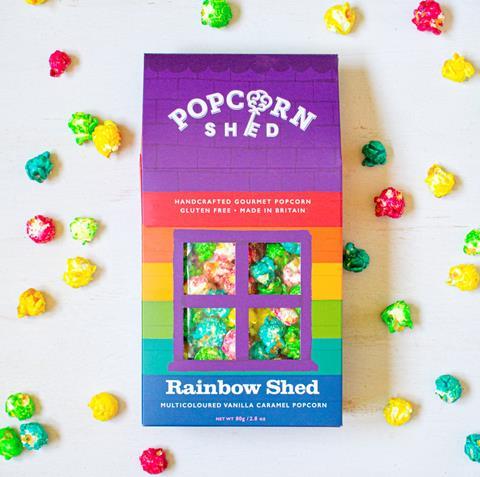 Popcorn Shed is donating 10% of profits from all website orders in the month of June to GiveOut, a UK based grant-giving foundation for LGBTQ+ activism.
Tesco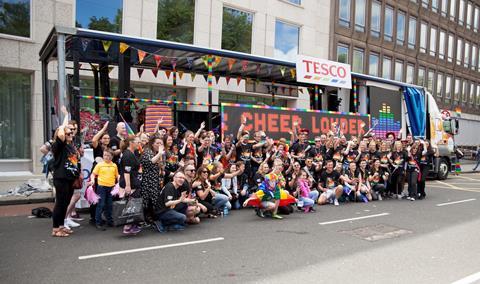 This year, Tesco will be a sponsor of London Pride and partner of Brighton Pride, as well as supporting Pride events across the UK in Birmingham, Cardiff, Edinburgh, Belfast, Norwich, Manchester, Glasgow, Dundee and Plymouth.
It will donate £90,000 between a range of LGBTQ+ charities including Fighting with Pride, Just Like Us, MindOut and Intersex Equality Rights UK. Meanwhile, 5% of the sale price of its new pride-focused home and clothing ranges will be donated to Switchboard LGBTQ+ Helpline.
Waitrose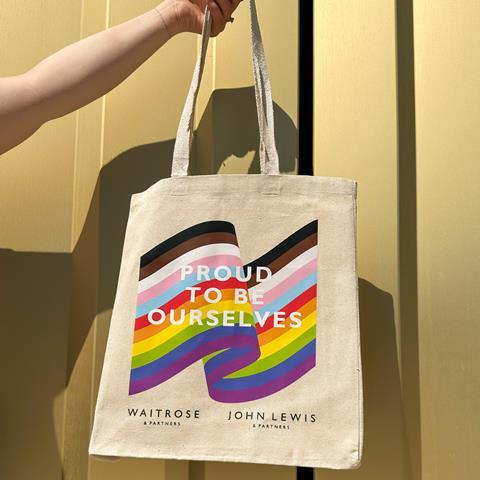 The John Lewis Partnership has unveiled a Pride canvas bag in both Waitrose and John Lewis stores, with 10% of the retail price to be donated to the John Lewis Foundation – used to make grants to organisations that help the LGBTQ+ community to access education, skills and employment.
Internally, JLP's Pride in the Partnership network has launched new resources to help educate coworkers and encourage them to wear Pride flag inclusivity badges.
Unilever & Superdrug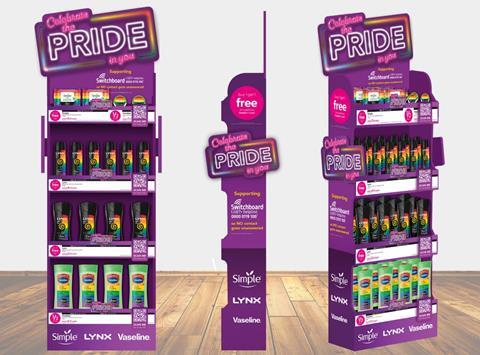 Unilever continues its sixth consecutive year Pride partnership with Superdrug and LGBTQ+ helpline charity, Switchboard - increasing its donation to £40,000 and partnering with brands including Vaseline, Lynx and Simple.
Chris Barron, general manager of personal care, Unilever UK&I, says: "To date, Unilever has donated nearly £200,000 to help fund Switchboard's helpline. By continuing to support Switchboard, we can continue to raise awareness of the vitally important helpline, and make sure no contact goes unanswered."