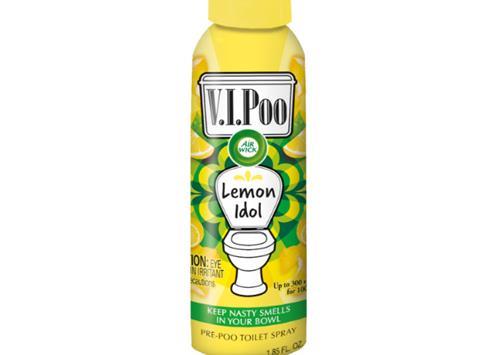 Reckitt Benckiser has embarked on a £2m push for a new aromatic pre-poo toilet spray designed to 'trap embarrassing odours'.
Starring fictional Hollywood actresses who occasionally need to 'punish the porcelain', TV ad for Air Wick V.I.Poo will run over the next two months in 30 and 20-second clips on terrestrial channels.
The footage switches to a cartoon illustration of the product at work on the surface of the toilet water, before reverting back to a starlet who claims the protective layer traps the 'icky smell of your Devil's doughnuts'.
Available in Fruity Pin-Up, Lemon Idol and Rosy Starlet variants, the 55ml spray can be used up to 100 times (rsp: £8).
The push, which is being supported by in-store and digital activity, comes as research for Air Wick discovered Britain was a nation of 'timid' toilet users.
The Censuswide survey of 1,700 adults found that one in five women would not 'do their business' in a place of work, while 95% of respondents said they were still searching for a completely foolproof way to mask nasty whiffs.
Elsewhere, Air Wick is rolling out a new non-drip Life Scents Décor Pillar Candle. Available in Summer Delights and Vanilla Treats fragrances, the candle costs £8, provides burning time of up to 40 hours and designed to melt evenly.