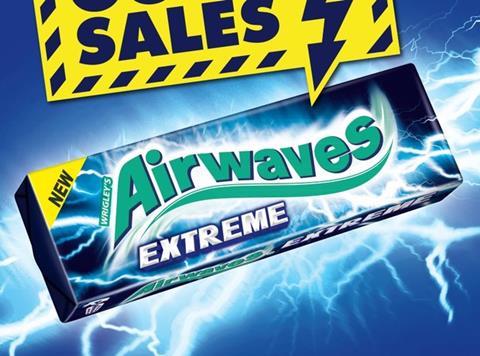 Wrigley has expanded its Airwaves gum brand with what it is billing as its strongest flavour to date.
Airwaves Extreme will be rolled into stores next week featuring an 'extra strong' menthol kick (rsp: 45p). It joins the brand's existing Menthol & Eucalyptus, Cherry Menthol, Black Mint and Blackcurrant flavours on shelf.
Pitched as offering "ultimate refreshment", the newcomer would attract new shoppers to the category and provide retailers with an incremental sales opportunity, said UK marketing manager Tania Gericke.
Wrigley is supporting Airwaves Extreme with national TV, print, online and in store advertising that forms part of a £5.5m investment earmarked for the wider brand this year.
Airwaves has grown 4.7% to £37m in the past year [Nielsen 52w/e 21 March 2015].