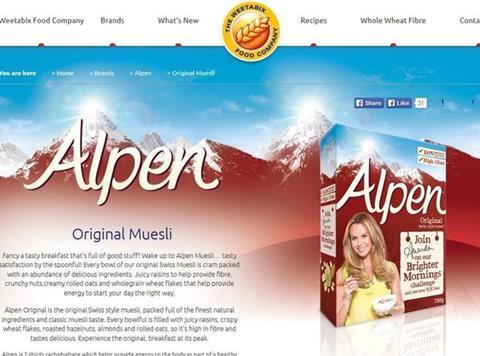 Alpen has recruited TV celebrity Amanda Holden to front a £1m push for the muesli brand.
The Brighter Mornings campaign, running from today (13 April), is focused around an on-pack challenge that encourages consumers to start their day with a bowl of Alpen to see if, after a week, they feel "more upbeat and brighter" about the day ahead, said brand owner Weetabix.
Holden will appear on packs, across in-store communications, and will carry out PR activity for the brand.
The activity, which is supported by PoS material, also gives consumers the chance to enter a competition to win a stay in a luxury UK hotel, including £500 pocket money.
The push had been designed to position muesli as "a nutritious breakfast choice for everyone", said head of brand Michael Cohen. The campaign would build on Alpen's "strong health associations" and reassert muesli as an ideal breakfast choice to a whole new audience," said Cohen.
Weetabix will be hoping to stem a 10.6% drop in sales to £35.6m [Nielsen 52 w/e to 11 October].
"We really hope our Brighter Mornings campaign will encourage lots more people to discover the ideal nutritious breakfast that a bowl of Alpen muesli makes," said Cohen, adding that Holden's "love of Alpen" made her the perfect brand ambassador.