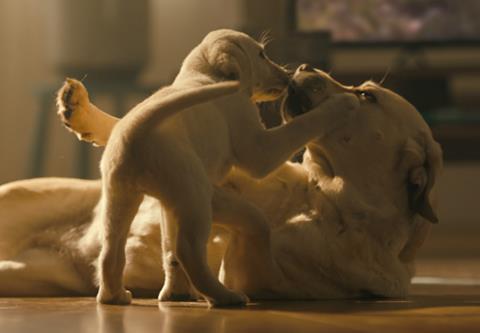 Andrex is marking its 75th anniversary with a nostaglia-driven TV commercial, a limited-edition heritage pack giveaway, and a commemorative banner on two variants.
Debuting this week across terrestrial and paid-for channels, and running until the end of June, the advert takes viewers through Andrex's history – from its origins in 1942 Walthamstow to its status today as the UK's leading toilet tissue brand.
Featuring the Andrex golden Labrador Retriever puppy and an older companion, the new creative "harks back to the commercials of years gone by" in an effort to demonstrate the role the Kimberly-Clark brand has played in the lives of generations of families, it said.
The push is supported by a Facebook giveaway of limited-edition single-roll packs themed on a past design, and 75th anniversary banner is to appear on Classic Clean and Gentle Clean SKUs.
Andrex is also integrating Shazam technology across printed shopper media including magazine ads and pallet wraps. This will enable consumers to take 'puppy selfies', participate in a 'guess the year' quiz, and watch the TV clip.