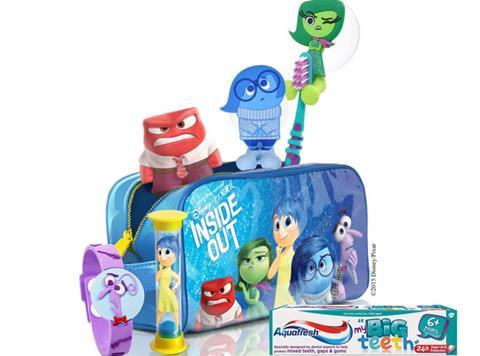 GlaxoSmithKline brand Aquafresh Kids has partnered with upcoming Disney/Pixar movie Inside Out to try and inject fun into tooth brushing.
The campaign, rolling out from this week, will give consumers the chance to win 'brushtime' kits featuring characters from the film.
Released on 24 July, Inside Out focuses on the 'little voices' inside an 11-year-old girl's head – her emotions - and how feelings such as joy, sadness, anger and fear guide her through her childhood. GSK said it would link the characters in the film to the emotions experienced during tooth brushing.
"Brushtime can be an emotional time for both child and parent and, with one in 10 parents admitting their children go to bed once or twice a week without brushing their teeth [One Poll survey April 2015], we are committed to helping parents make brushtime as engaging and as fun as possible," said Aquafresh Kids brand manager Alisha Currie.
"The characters in Inside Out will help children understand it's ok to be sad or angry at brushtime, and our campaign will help parents drive the message that joy can happen too."
The brushtime kits are being supported with a £1m marketing push including TV, digital and in-store activity.