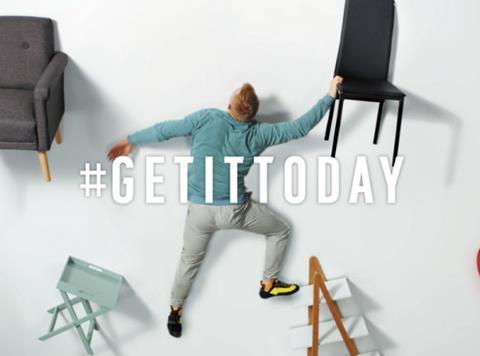 Argos is set to launch 80 days of date-stamped, unique TV ads each showcasing a different product in its range.

The spring/summer campaign will show the product that best matches consumer demand data on each of the 80 individual days, starting on 7 April.

The 10-second ads will also focus heavily on its same-day delivery proposition, carrying the strapline: "Order by 6pm, delivered today. Go Argos."

The campaign comes six months after Sainsbury's officially acquired Argos, during which time the new management team has worked to improve its store network and delivery proposition.

Dan Elton, brand, strategy and marketing planning director at Argos, said the campaign played to the brand's strengths.

"This campaign celebrates everything that makes Argos great - the market-leading same-day delivery that sets us apart from competitors, the playful tone to surprise and delight customers, and focus on the vast range of fantastic brands and products we offer," he said.

The team used sales and social media data plus "gut instinct and intuition" to determine which products would be most relevant to consumers on which day, Elton added.

"We hope the campaign inspires customers everywhere to seize the day and make the most of the spring and summer, whether that's getting a paddling pool for the kids to enjoy a sunny day, a new TV to watch the Champions League final or a tent for Glastonbury."

The featured products include branded bestsellers such as the new Nintendo Switch, Beats headphones, Sony TVs and Dyson fans as well as general outdoor goods such as bikes, paddling pools and barbecues.

The TV campaign will work alongside digital activity, which will include setting same-day challenges for influential social media stars that can only be achieved using Argos Fast Track delivery.

Sainsbury's Argos director of commercial Robbie Feather said its speedy delivery and pick-up options were crucial to future strategy. "Our brand is in a sweet spot in the market at the moment because customers typically want what they buy immediately and with Argos they can have it delivered or click & collect on the same day," he said.