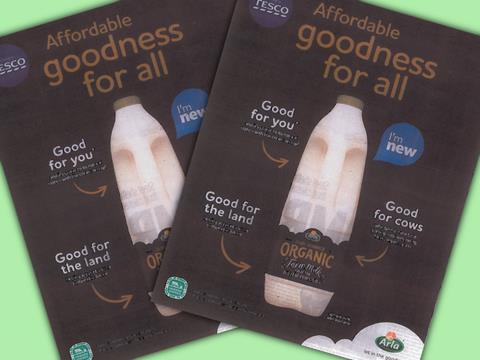 Arla has been censured by the Advertising Standards Authority, after its Organic Farm Milk advert was labelled misleading by the watchdog.

The print advert, seen across national and regional press on 30 November 2016, featured claims that organic farm milk was 'good for the land', and 'helping support a more sustainable future'.

The complainant said dairy farming was not good for the land, and therefore took issue with Arla's statement in the advert.

In its response, Arla submitted the Soil Association's organic standards document and claimed the ethos of organic farming revolved around taking care of the land, and was therefore good for the land.

However, ASA upheld the complaint, as it said Arla's claims could not be substantiated. It ruled that the advert should not appear again in its current form.

"We did not consider they had substantiated that organic milk production had an overall positive impact on the environment, taking into account its full life cycle," said the ruling. "We therefore concluded that the claim was misleading."

An Arla spokesman said: "The 'good for the land' line reflected that one of the key principles of organic farming is ensuring good treatment of the land.

"According to the Soil Association, organic farming methods offer the best, currently available, practical model for addressing climate-friendly food production. We are disappointed by the decision but we will respect the ruling and have no intention to reuse the specific advert."
Soil Association CEO Martin Sawyer said: "While saying farming is 'good for the land' is rather vague, organic farming does have clear benefits beyond other systems.
"Organic milk contains more beneficial nutrients, and comes from free range cows with the highest standards of animal welfare, on farms with on average 50% more farmland wildlife, that are fed with grass from fields that are not sprayed with pesticides or treated with manufactured fertiliser, and which help combat climate change by storing carbon in the soil."
But he added that the Soil Association did not advise Arla directly "on the wording in this case and as the ruling shows, it is really important to work with us and the ASA on all claims and statements".
Arla launched Organic Farm Milk in November. The range is unhomogenised and aimed to make organic milk "more accessible to all", said Arla Foods UK MD Tomas Pietrangeli at the time of launch.