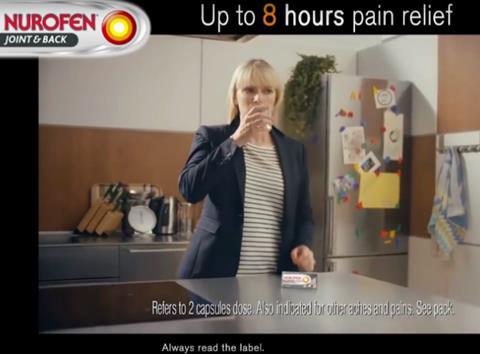 Reckitt Benckiser has had its wrists slapped by the Advertising Standards Authority over a misleading commercial for a Nurofen product.
The ASA upheld 18 consumer complaints about a TV advert promoting Nurofen Joint & Back capsules, just four months after RB withdraw an ad for Nurofen Express that was being investigated by the advertising watchdog.
The most recent commercial centred on a woman taking Joint & Back to relieve lumbar pain. An anatomical image showed the product moving through her body while text included the sentence, "Also indicated for other aches and pains".
She was then shown going about activities without discomfort, with the image depicting a Nurofen symbol to indicate where the capsule was acting on her back. The voiceover claimed: "Just a single dose of Nurofen Joint & Back provides you with constant targeted pain relief for up to eight hours."
Given the product's name and the ad's focus on the alleviation of back pain, viewers were likely to understand the medicine was specifically designed to relieve back and joint pain, rather than discomfort generally, the ASA ruled.
And, in spite of the on-screen text, the watchdog also decided consumers were likely to infer the product had a special mechanism or contained an active ingredient that made it specifically for back and joint pain, which it did not.
RB was told not to run the ad again in its current form, and to ensure it did not imply Joint & Back targeted pain in specific areas of the body.
The ruling comes after RB removed a TV ad for Nurofen Express in February, after the ASA informally resolved complaints that it was misleading.
A spokesman for the Nurofen said it was "disappointed" with the ASA's latest decision to uphold complaints about the commercial.
"Nurofen pain-specific products were introduced to provide easy navigation of pain-relief options for consumers experiencing a specific type of pain, particularly within the grocery environment where pharmacy support isn't available," he added.
Late last year, the Australian Competition and Consumer Commission objected to Nurofen painkillers being sold with names suggesting they were intended for particular complaints, and ordered them to be removed from retailers due to 'misleading' claims.