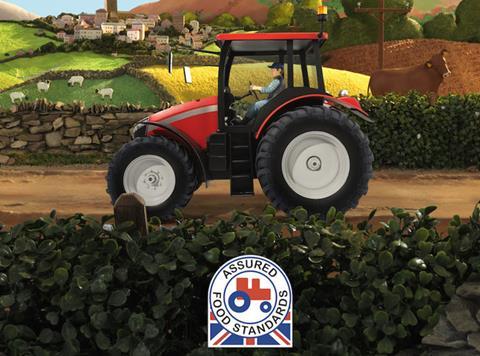 The ASA has rejected vegan pressure group Viva's complaint against Red Tractor's first-ever TV ad campaign.
The Advertising Standards Authority received 29 complaints about the assurance scheme's two ads, which aired in September. The complaints, including one from Viva, contested the ads were misleading based on beliefs the assurance scheme did not guarantee animal welfare.
Red Tractor owner Assured Food Standards said all of its on-farm standards were routinely inspected on a yearly or 18-month basis. It gave further examples of welfare guarantees, such as prohibiting the use of electric goads, which are legal under UK standards.
Its standards demanded a lower chicken house stocking density than either EU or UK legislation dictated, it told the ASA in its defence. Red Tractor standards also required an independent annual inspection and four quarterly visits by a specialist pig vet registered in the Pig Veterinary Society, not required by law.
The ASA considered the ad voiceovers, which stated Red Tractor foods were "traceable, safe and farmed with care", "UK farmed, meticulously checked" and "there are thousands of checks, thorough, widespread". The statements were not considered misleading by the ASA, which said the majority of viewers would infer the scheme's produce was "inspected thoroughly from the origin of production to ensure its safety for consumption".
Despite acknowledging "what constituted an appropriate degree of animal welfare on farms was a subjective issue", the ASA ruled the ads made it clear the Red Tractor scheme had enforceable standards that went beyond those required by law.
However Viva maintained its position, claiming the Red Tractor was "nothing more than a clever marketing tactic" and "notorious for endorsing poor welfare conditions for farmed animals".
"Although we were disappointed by the ASA's decision, we are not surprised by the ruling," said Viva campaigns manager, Lex Rixby. "Red Tractor's assurances are meaningless and do not guarantee high standards of animal welfare. In fact, the welfare standards set by Red Tractor are simply the UK and EU legal minimums - which are already shockingly low. This advert is misleading as it implies that Red Tractor farms are thoroughly inspected and have higher animal welfare, which is simply not the case. Investigators for Viva campaigns have illustrated this time and time again."