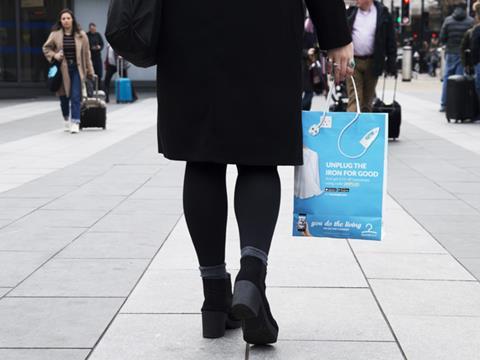 Bagboard, a business that supplies heavy-duty paper bags paid for by on-bag advertising, has signed up 2,000 independent retailers for a full-blown three-phase London launch next April.

The independents that have committed to be involved in the scheme include those affiliated to major symbol groups such as Nisa, Costcutter and Londis.

The reusable bags, which are free to consumers and retailers, are made from heavy-duty paperboard with waterproof coating. They come in two sizes, the larger of which can hold up to 10kg of shopping - equivalent to six bottles of wine or 122 muffins, Bagboard claims.

The bags can last for months, the business says, because of their durable construction, extending the life of advertising campaigns.
Bagboard sees its concept, which it hopes will wean independents off single-use plastic bags, as "a global solution to the advertising engagement problem and a global solution to the single-use plastic bag problem".

Shosh Shetty, Bagboard's chief networks officer, said: "We are looking for launch partners interested in partnering with Bagboard. These are brands who want to show that they are committed to environmental change, and care about turning advertising into a force for good."

The advertisers Bagboard has worked with pre-launch include HelloFresh, Fetch, EasyCar, Laundrapp and Missguided.

Bagboard has created algorithms that predict bag usage at different stores, so advertisers can select specific stores' demographics as part of their media planning.

Shetty said: "There are many technical complexities behind making sure retailers have a sufficient supply of bags whilst also meeting the needs of advertisers. Our platform uses machine learning technology to predict bag usage and match that up with advertising campaign timing and targeting requirements.

"Once we have established the platform in London we will start to roll it out to other major cities, not only across the UK but globally. We hope to begin this process towards the end of 2019."

Shetty said that by adding a digital element, rewards were earned every time a consumer engaged with a brand using the Bagboard app, which was currently in development in preparation for next year's launch.