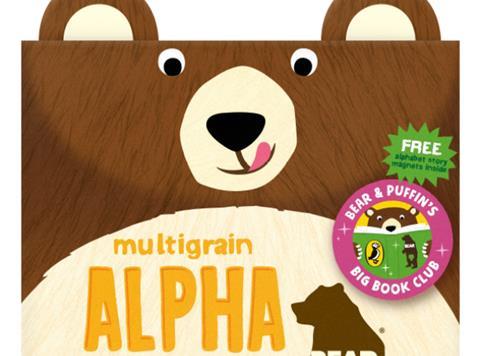 Bear Alphabites, the children's cereal range, has teamed up with Puffin Books to help kids engage with reading.
Bear and Puffin's Big Book Club has an online hub of content and activities, including a new Book of the Month every month. There will be specially released content from Puffin that includes free excerpts of childhood classics and new releases from favourite authors, as well as downloadable activity sheets and games.
The Big Book Club will feature on packs of Bear Alphabites in store, with each box of the cereal containing a set of limited-edition collectible magnets that relate to a letter of the alphabet and characters featured on the Big Book Club website.
"To be working with a brand that is as loved and respected as Puffin is such a privilege," said Emma Howgego, marketing director at Bear Nibbles. "Over the years, it has made reading more engaging and accessible to millions of children across the world."
Hannah Sidorjak, senior marketing manager from Penguin Random House Children's, added: "We're excited to be partnering with Bear on this Big Book Club to offer families a world of stories to explore together. With a range of books for new and older readers we hope to get children excited about reading and introduce some new favourite characters alongside some well-loved ones too."