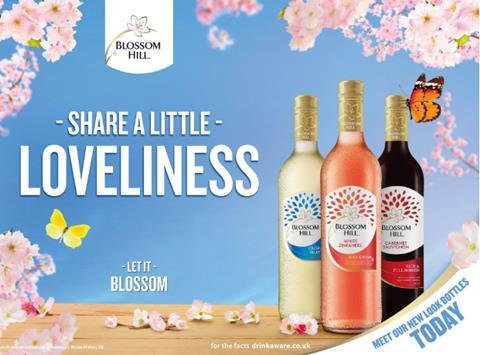 Treasury Wine Estates has given Blossom Hill a revamp backed by a £2m push - the first activity for the struggling wine brand since the producer acquired it from Diageo in December.

The updated bottles will be rolled across all Blossom Hill SKUs from July, featuring 'stylish' new labels designed to clearly communicate the tipple's 'fresh fruity' taste credentials in a bid to make the brand "sing out on shelf".

The makeover is being supported by a £2m "Share a Little Loveliness" summer campaign, kicking off on 20 June, that will see Blossom Hill return to the small screen for the first time in two years as part of the brand's largest push in five years.

Other activity will include 1,100 digital posters across major UK cities in key commuter spots throughout July, in-store activation and social media - helping to make the campaign the biggest media activity by any wine brand in the UK for three years, according to advertising agency Mediacom.

TWE will be hoping to reverse a 14.5% drop in Blossom Hill sales to £204.3m on volumes slipping 15.7% [Nielsen MAT 23 April 2016], despite an average 1.4% price hike per 75cl.

"We are delighted to make our first big announcement on the Blossom Hill brand in the UK since acquiring it in December," said Caroline Thompson-Hill, head of marketing for Blossom Hill UK Western Europe. The winemaker was "really excited" to support the wine portfolio with such an "ambitious platform of investment", she added.

Earlier this month, TWE revealed it had launched Blossom Hill into the Australian market, the first in a series of rollouts to international markets.

"Blossom Hill is a brand with real potential on an international scale and we will be looking at rolling it out across other global markets," said Thompson-Hill.

In February, TWE announced it had doubled profits in the first half of its 2016 financial year on the back of soaring sales in Asia.

The company, which acquired the bulk of Diageo's wine business in December, reported sales revenue up 22% to AUS$1.1bn (£537m), with Asia accounting for AUS$153.3m - a 126% increase.

The US$552m (£384m) Diageo deal saw TWE take control of a raft of brands including Blossom Hill, US high-end business Chateau and Estate Wines, which joined Lindemans, Wolf Blass, Penfolds and Matua in the TWE portfolio.