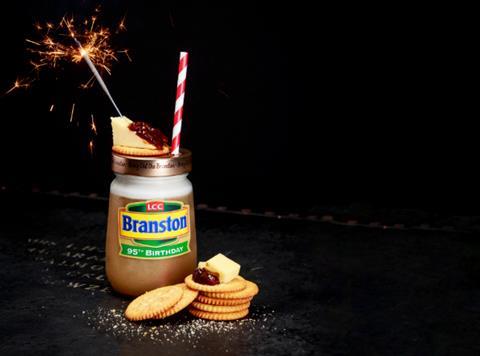 Leading pickle brand Branston is celebrating its 95th anniversary with a limited edition cocktail.
Available at the eight London Cocktail Club (LCC) bars across the capital, the £10 Pickle Me Cheesy is a blend of Irish whiskey, sherry, lemon, cloudy apple juice, egg whites and Branston, served with a cheese and pickle garnish. It will be available throughout September.
LCC founder JJ Goodman developed the drink "to showcase Branston's fun personality, and hero the classic cheese and pickle combination to a new, younger generation of pickle fans", said the brand.
The partnership between Branston and LCC will be supported across both parties' social channels and through promotional and PR activity, including hosting a 'media masterclass' on Pickle Me Cheesy. People booking an LCC venue for a birthday event in September will be offered a free Branston cocktail.
"It was important for us to hero the unique taste that has made Branston such an iconic household favourite," said Nisha George, senior brand manager at Branston. "Cocktails are synonymous with birthdays, so what better way to celebrate turning 95 than with our very own serve?"
The pickle's acidity leant "a new depth of flavour to a sour, and is perfectly paired with the cheese garnish" added Goodman.
Branston has seen value sales rise to 2.2% to £25.5m [IRI 52 w/e 24 June 2017], having launched its Please the Cheese campaign at the start of 2017.