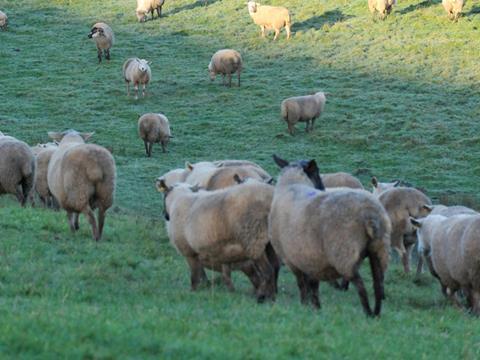 A major campaign to promote British lamb in supermarkets is under threat due to government "dithering and delay", angry producers have claimed.
Levy board AHDB had planned an advertising push for mini lamb roasts this autumn, tied in with promotions in the major mults. But the plans have yet to be signed off by the government, leading AHDB to lose out on sought-after prime-time TV and advertising slots and putting the whole initiative in jeopardy.
The delays were the result of increased government spending controls coupled with the appointment of a new government minister, Oliver Letwin, following May's general election, sources claimed.
Defra had all but rubber-stamped the plans before the election, but delays at Cabinet Office level had caused progress to come to a standstill, they said.
The government is expected to approve the campaign eventually, but producers fear it will now have much less impact.
A similar campaign run last autumn helped deliver a significant uplift in sales for the British lamb sector. The delays this year "couldn't come at a worse time for the lamb category", said the NFU's livestock board chairman, Charles Sercombe.
"This whole affair smacks of government interference," he said, "and there is a concern that there is a move by government to utilise levy payers' money for different uses".
With an abundance of lamb on the market, which had driven the farmgate price down in recent months, farmers would be angry promotional funding had not been approved, he warned, adding "questions need to be asked about this delay, and that voice will grow if we don't get a result".
National Sheep Association CEO Phil Stocker added the level of government intervention "at a time the industry is in great need" was "inexcusable".
"We recognise that AHDB Beef has long had a process of having to have such promotional activity signed off by Defra, but this year that sign-off process has stagnated at ministerial level, which is a hopeless state of affairs that is not helping our industry one bit," he said.
A Defra spokeswoman said: "As a public body, AHDB has always been accountable to Parliament for how it spends levy payers' money. Their leadership team is introducing crucial changes to give farmers better value for money. These changes will focus on both the best interests of the industry and delivering for levy payers."
The Cabinet Office has yet to respond to requests for comment.

Resignation
It comes as AHDB Beef & Lamb's sector board chairman, Stuart Roberts, resigned this week, citing the government's "more aggressive stance" towards how the body spent farmer levy payments, and warning that levies in the long-term could be "lost to the realms of a remote tax that the industry had little or no influence over".
"I take issue with that; it's not for the government to say how we promote the sector," he added. "It should be the industry through their AHDB sector boards that are responsible for determining how levies are used."
AHDB chairman Peter Kendall said he was saddened by Roberts' resignation.
"It is a real shame that Stuart did not feel able to raise his concerns about Defra with his colleagues on the main AHDB board so that I and my board members could have taken these up collectively with the Minister," he said.
"As AHDB moves forward, we will continue to make the strongest possible case to government to carry out the work that our Boards believe has the biggest impact for the industry," added Kendall.