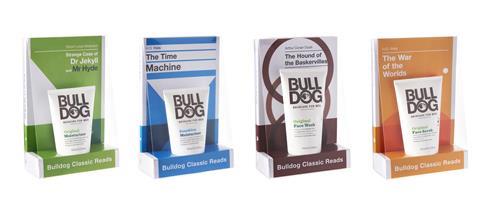 British male grooming brand Bulldog has partnered with Penguin Books to launch limited-edition Father's Day gift sets.
The four-strong Classic Reads collection is rolling into Waitrose exclusively next Monday (10 June) with each pack containing a classic British novel and a Bulldog skincare product (rsp: £5).
The collection consists of: The Time Machine with Bulldog Sensitive Moisturiser, Strange Case of Dr Jekyll and Mr Hyde with Bulldog Original Moisturiser, The Hound of the Baskervilles with Bulldog Original Face Wash and The War of the Worlds with Bulldog Original Face Scrub.
"Bulldog is a great British brand and a consistent top performer at Waitrose," said Waitrose men's grooming buyer Matt Gourdin. "We hope this pairing with the best of British writing will offer our customers a truly unique Father's Day gift which can be enjoyed long after the promotion."
All four covers have been' re-imagined': circular hoops represent Sherlock Holmes' magnifying glass; a split page represents the personality conflict between Dr Jekyll and Mr Hyde; an hourglass signifies the passage of time in The Time Machine; while circles represent planets in The War of the Worlds.
"There is a wealth of timeless classics we all wished we owned, or perhaps never got around to reading," said Bulldog founder Simon Duffy.