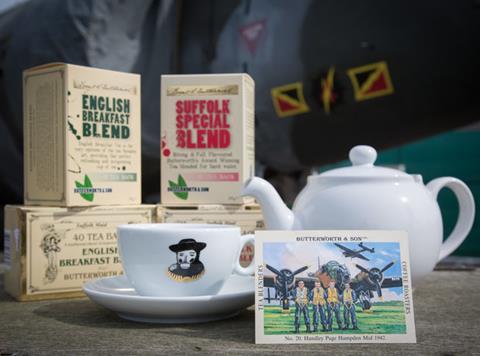 East of England Co-op and supplier Butterworth and Sons are resurrecting the traditional of giving away picture cards with tea.
From this month until February 2016, every 40-bag pack of Butterworths' Suffolk Special Blend and English Breakfast Blend will contain one of 25 cards from a collection called Airborne over East Anglia.
The cards depict scenes of aviation history from the first balloon ascent over Suffolk in 1785 to the Second World War – all reproductions of original artworks commissioned by Robert Butterworth and painted by Suffolk artist Geoff Pleasance.
"We think our customers will really enjoy this new venture that's only been possible thanks to Robert's fascination with tea cards and his passion for local history," said the cop-op's local and fresh foods product manager Kevin Warden.
"Reviving the tradition of the collectible tea card brings a touch of nostalgia for our customers to enjoy – and I'm sure they'll love the wonderful designs that bring our region's aviation history to life."
Butterworth added that he was fascinated by tea cards and that he was delighted to have the chance to share his enthusiasm with shoppers. "This is the first time that I've joined forces exclusively with a retailer – and I'm over the moon with the partnership," he added.
Artist Geoff Pleasance has completed about 6,000 commissions, and has worked extensively with the USAAF and RAF.
Butterworth and Sons, which was established in 1976 in Bury St. Edmunds, has supplied the East of England Co-op since 2011.