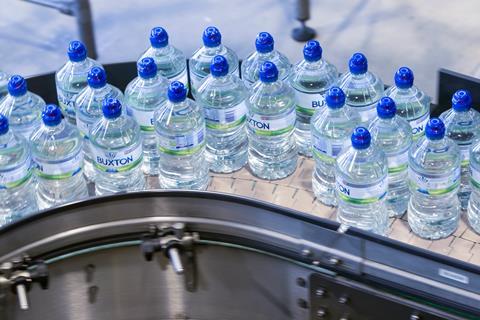 Buxton Water is to begin supplying its entire range in bottles made from 100% recycled plastic.
The brand, which rolled out 100% rPET 75cl and one-litre bottles in November, has said the remainder of its bottles – which are currently made with approximately 20% rPET – will follow by 2021 at the latest.
Nestlé would have "liked to have made all of our Buxton bottles from recycled material sooner", said Nestlé Waters UK business executive officer Michel Beneventi. However, he stressed there were "many challenges to achieving this" as the material needed to be high-quality food grade.
UK supply of rPET was "still relatively limited", he added. "Today, the rPET used for our Buxton bottles has to be sourced outside of the UK, as we don't currently have the infrastructure available at scale in this country to create volumes needed. We would love to be able to produce the bottles for our British water in the UK."
Nestlé isn't the only drinks brand looking to address the issues around UK rPET supply. Britvic, for example, last week announced it had signed a major supply deal with Esterform Packaging, which would see it invest £5m in the construction of a new rPET manufacturing facility in Leeds.
Britvic said the deal would address "significant" rPET supply issues in the UK. The facility is due to be up and running by the fourth quarter of 2020.
Belu has also switched to 100% recycled plastic plastic bottles, which rolled out in November. It said the move would generate "about 60% less carbon emissions than a comparable virgin bottle and about half that of an aluminum can".