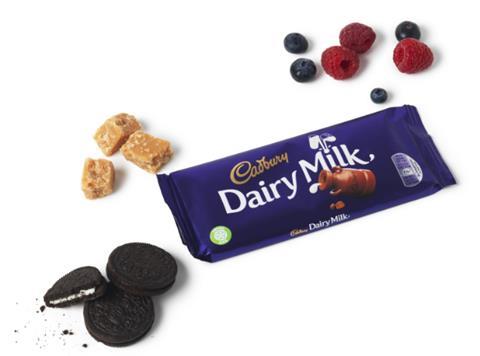 Cadbury is set to launch its first-ever chocolate bar designed by a member of the public.
The confectionery giant today (2 July) kicked off 'Go madbury for Cadbury' – a promotional competition allowing shoppers to create a Dairy Milk sharing variant via cadburyinventor.com. The winning bar will be sold in the mults for at least a year.
With "a whopping 90,000 different available combinations" to choose from, entrants can pick up to three ingredients before naming their invention and providing a brief explanation about what inspired them.
Once the push ends on 31 July, three finalists will be selected based on "two very important elements: taste and creativity". They will be invited to Cadbury's Chocolate Centre of Excellence in Bournville, where they will work with the supplier to experiment with their creations and make their bars a reality.
All three bars will go on sale next year and be subjected to a public vote for around 12 weeks – after which one will be named "the ultimate winner" and be in supermarkets for a minimum of 12 months. The victor will receive a year's supply of their invention.
"This is the first time ever we've opened the doors to our fans to help us create the next bar and we can't wait to see how creative they get," said David Shepherd, director of research & development at Cadbury.
The 194-year-old company was "always looking for ways to innovate and excite the British public with our products" he added. "So we thought what better way to create the next iconic bar than to ask the people that love it the most."