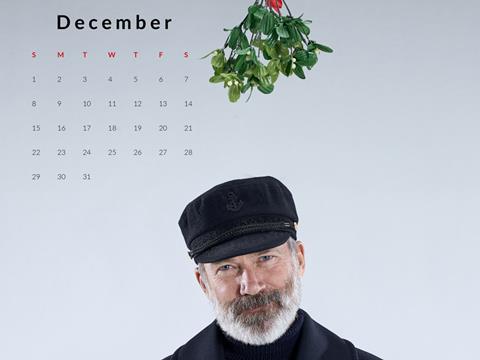 Birds Eye has launched what it is describing as this year's "must-have Christmas stocking filler", the official 2019 Captain Birdseye calendar.
The limited edition calendar features 12 "striking" images of the new and more "rugged" and "distinguished" Captain Birdseye in a variety of poses.
It had been released to celebrate the British public's "overwhelming response" to the rebooted character, Birds Eye said, with its monthly shots showing "what the Captain gets up to in his spare time – from relaxing by the sea to sharing a kiss under the mistletoe".
Shoppers can snap up one of the 50 calendars at Birds Eye's Facebook page up to 16 December. Entrants have to tell the brand how they enjoy their fish fingers.
The new Captain, played by 56-year-old Italian-born actor and seafarer Riccardo Acerbi, was unveiled at the start of a year as part of an £8m marketing push for Birds Eye's fish fingers and coated fish portfolio.
"It's no exaggeration to say the new contemporary version of the Captain has caught the eye and captured the hearts of the British public," said Birds Eye's UK general marketing manager for fish, Becky Nascimento.
"We wanted to thank them for their support and give them a chance to keep him close every day of the year. From relaxing by the sea to tucking into a plate of fish fingers, Captain Birdseye has always enjoyed the simple things in life."
Replacing the iconic sea dog with a younger version has given a significant boost to Birds Eye's performance, with value sales under the Captain Birds Eye sub-brand up 6% [Nielsen 52 w/e 14 July 2018].
Birds Eye was now seeing "increased appetite from the trade to extend the portfolio", said Nascimento in The Grocer's Focus On Fish last month, while the overall Birds Eye brand reported a return to value growth for the first time in four years in October (up 2% to £407m).