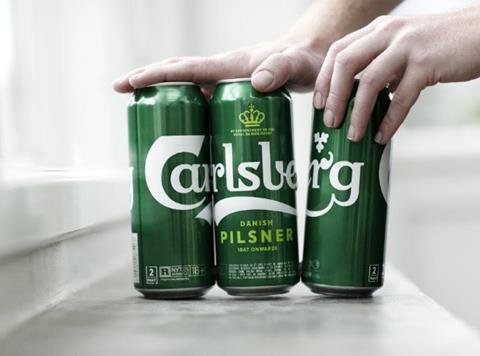 Carlsberg has unveiled an all-encompassing revamp of its flagship pilsner, including a completely new brand identity and a slew of sustainable packaging changes.
The rebrand, news of which was first reported by The Grocer in July, will roll out across the UK in spring 2019. It will also cover the non-alcoholic, unfiltered and 1883 Carlsberg variants (none of which are available widely in the UK off-trade, but it is understood Carlsberg is considering them for launch down the line).
The new look features a reimagined logo, which has switched from vertical to horizontal across all the brand's SKUs, and cues playing up the Danish brewer's sustainability credentials. It was created in partnership with design agency Taxi Studio.
Six-packs of the lager will feature a sustainable 'snap-pack' instead of plastic packaging, which Carlsberg claims will reduce plastic use by 1,200 tonnes across its global portfolio every year. Cans in the multipack are held together by small pieces of specially developed glue, which can be snapped apart.
Meanwhile, bottles will feature new Cradle to Cradle-certified labels, designed to improve the recyclability of the packaging by cutting down on printing inks that are often recycled along with paper fibres.
In the meantime, 6x330ml can SKUs of sister brand Carlsberg Export will roll exclusively into Tesco on 10 September, featuring the new snap-pack glue. The exclusivity period will end in March with the launch of the new Carlsberg 'green' identity.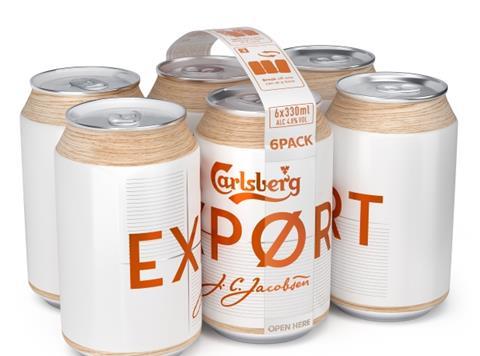 Sustainability was "not the magic bullet" for bringing new customers to the brand, said Carlsberg global brand director Julian Marsili, but "purpose-led companies are growing faster than non purpose-led. This is about living up to our brand promise and it is a side of Carlsberg that people maybe have not seen."
'More meaningful purpose'
It was not a case of "old-school CSR", he added. "A lot of companies are reaching for this more meaningful purpose, but Carlsberg has it. But it's a story in the UK that you've never heard."
It is understood a second TV campaign featuring Danish actor Mads Mikkelsen, who worked with Carlsberg on its relaunch of Carlsberg Export last year, is in the works to accompany the new look.
Carlsberg has also worked with its packaging suppliers to develop an 'oxygen scavenger' bottle cap that absorbs oxygen from the head space in the bottle, reducing flavour oxidation, and a 100% green fibre recyclable bottle, which it plans to launch in selected international markets next year. However, it has not yet decided whether these packaging innovations will be rolled out in the UK as part of the rebrand.
The brewer has temporary exclusivity its sustainable packaging innovations, but said it would not prevent its suppliers from passing on the technology to others in the long term. Marsili said he hoped to see the sustainability benefits of the innovations filter through into the wider drinks sector.
It comes as Carlsberg has faced significant sales declines in UK grocery over past years in the face of increased competition from craft brewers and more premium world lagers, as well as retailer range rationalisation.
Export was relaunched in 2017, with a £15m investment covering fresh packaging and the widespread TV ad campaign with Mikkelsen.
Since then, Export's sales have almost returned to growth, declining at a rate of just 1% (a loss of £400k) compared with 29.8% (£22.5m) in spring of last year, as The Grocer's Britain's Biggest Alcohol Brands report revealed in July [Nielsen 52 w/e 21 April 2018].
However, at the time of the report, Carlsberg's frontrunner was still in a serious decline, with sales down 16.4% year on year [Nielsen].
Marsili said the brand's "journey towards premiumisation" would "add value to the brands" and "encourage reappraisal".