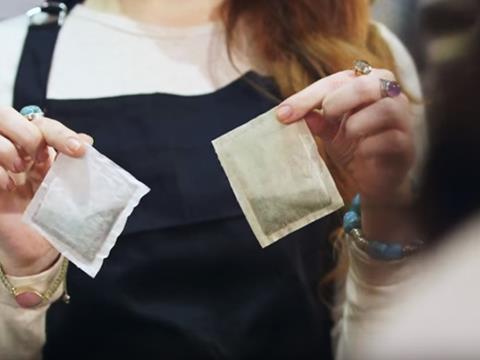 Clipper Teas is targeting January health-kickers with the launch of a 'New Year Revolutions' campaign for its green tea range.
The campaign kicked off with an online video that "lightheartedly" questions some of the processing methods and ethics involved in producing other green teas. Set in Clipper's own 'Truthful Green Tea Shop', hidden cameras capture the responses of customers who learn a number of "startling" facts from a hostess serving up cups of tea.
The footage, which Clipper believes will be seen by over one million people in 2016, has been shared on YouTube and forms part of a wider month-long push encompassing outdoor and transport activity - with the aim of attracting new green tea drinkers to the brand.
According to recent research by the Fairtrade brand, the single barrier to green tea adoption is the perception that consumers are not going to like the taste.
"The last thing we want is for new green tea drinkers to buy a green tea and then be put off forever, either because it doesn't deliver on taste or it has a nasty after-taste due to poor processing, artificial flavourings or fortification," Rebecca Vercoe, Clipper brand controller at Clipper owner Wessanen UK said. "We believe that the more natural the tea, the more natural the taste."
The outdoor and transport push aims to reach 90% of adults across London and the South East during January. Consumers will be able to trial Clipper's range of green tea packs with a 'tastes great or your money bank' promotional guarantee.
Last year Clipper grew its total green tea penetration by 15% [Kantar Worldpanel 6 December 2015].