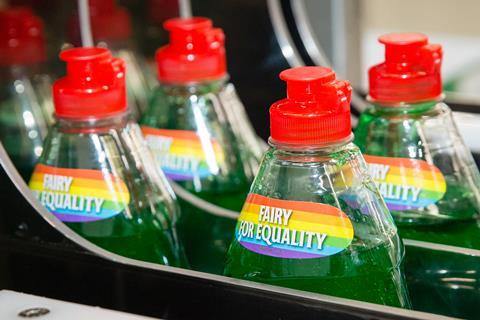 To counter consumer apathy in a fragmenting world, brands with a strong point of view really stand out. Younger consumers armed with smartphones want to pierce the 'corporate veil' and are looking for brands that are authentic, transparent and responsible.
These 'tribes' are seeking out brands that share their values. This is a way for fmcg companies to restore consumer loyalty by creating lasting brand relevance and a real licence to operate, which ultimately will drive both repeat purchase and pricing power.
A recent Accenture study highlighted that more than 60% of consumers say 'purpose' influences their purchasing decisions and want companies to take a stand on issues they care about. Indeed, 90% of millennials would switch to brands that champion a cause. However, it's a two-way street, with half of consumers willing to boycott brands that fall short of their values.
Within fmcg, Unilever has made most progress on this score. Its brands with purpose – or in its language, its 28 Sustainable Living brands – are driving three quarters of its growth. The gap is widening, with these brands growing 70% faster than the rest in 2018, vs 50% faster in 2017.
So strongly does Unilever feel about this issue that CEO Alan Jope has said that in the future, all of its brands will have a purpose, and those that don't shape up could be disposal candidates.
However, definition is important. For Unilever, its Sustainable Living brands have both a strong social or environmental purpose, but are also aligned to the UN Sustainable Development Goals. It is encouraging to hear that this year Unilever won't only mark its own homework and 'self define' what purpose means, but will also ask its consumers what they think.
Danone is another company that is becoming a brand activist. Its Manifesto brands make up a quarter of group sales, and are aligned with its One Planet, One Health vision. Its goal is for all its brands to be on the Manifesto journey by 2020.
Danone is also aiming to be the first large cap fmcg company to be a benefit corporation. A B Corp legally is required not only to drive profits but also to create social and environmental benefits. It's is a very demanding benchmark. It's clearly putting its money where its mouth is, by recently launching a pioneering €2bn social bond, where interest payments depend on its B Corp progress. Ultimately, Danone believes that becoming a fully fledged B Corp is the best way to engender long-term trust in its brands.
It's easy for companies to be perceived as being more opportunistic around purpose. For example, P&G has temporarily and imaginatively rebranded its Fairy washing-up liquid to Fair in rainbow colours, as it promotes LGBTQ rights during Pride celebrations.
A word of warning, however – companies need to be very careful, as this is not a panacea. If initiatives are seen as being gimmicky and not genuine, they will be quickly spotted by consumers, with potentially damaging consequences.
Companies overlook the importance of purpose at their peril. Not only is the evidence building that it is driving superior growth, but also, crucially, it could be the difference between brands that remain relevant and have longevity, and those that fade or die.