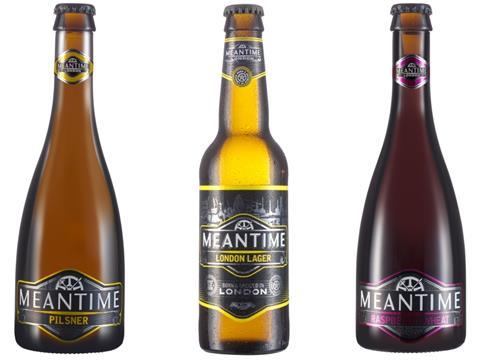 It's a tricky thing, identity. Charged with emotion, a sense of belonging to a distinct place or culture distils a notion of identity that's vital both to people and to brands.
The recent controversy over meat country of origin labelling, in which farmers protested against lamb labels seemingly suggesting that products are British when in fact they contain lamb sourced from New Zealand, is just the latest example of using a suggestion of locality as a positive while actually exploiting international economies of scale to save money.
Consumers enjoy those savings but they don't always like the global infrastructure that's necessary to achieve them.
This is especially true when those seeking international synergies are not the big, bad supermarkets but small brands with artisan credentials.
Meantime Brewing, the major craft brewer recently acquired by SABMiller, currently finds itself in an awkward position after having to admit to Beer Insider its London Lager is not always 100% London-made.
In its marketing, Meantime claims the "quintessential English lager" is a product of the malting barley of East Anglia and Kent hops, brought together in London. The front of the label boasts the lager is "Born & Brewed In London", in letters as large as the name of the beer itself.
It's become apparent, however, that to meet demand Meantime has been borrowing capacity at the Grolsch brewery in the Netherlands to brew its London Lager.
Meantime insists the liquid brewed there "was brewed to the precise specification and recipe of London Lager and has the exact profile and microbiological makeup as any batch of London Lager brewed here at our brewery in Greenwich".
But that's hardly the point. I'm sure even the purest beer snob couldn't taste the difference between a "pure" Greenwich brew and a hybrid Anglo-Dutch brew. The point is, when a craft beer customer spends an above-average amount to purchase an upmarket product and buys a London Lager, 'born & brewed in London', they're expecting something that's, well, brewed in London.
So is this a case of a small brand sacrificing credibility after a big-ticket M&A deal? Not necessarily. As Beer Insider points out, it is likely the Grolsch deal was already in place before SABMiller acquired the brand. And Meantime has told us today it intends to keep production UK-based, and that "the constraints caused by peak sales periods and ever increasing demand will be alleviated by the large investments we are making at the brewery."
And while this is clearly an embarrassing episode, it's also worth remembering the UK craft scene is still feeling its way through – and so are some of the large corporates that have been getting involved of late.
In the US, international drinks companies like SABMiller and AB InBev were too late to jump on the craft market before it hit the big time - independent brewers like Sierra Nevada are now so large their owners are billionaires and not in need of a big corporate parent.
With the craft boom now taking off here in the UK, large brewers want to get in on the ground floor. In doing so, they'll need to remember that craft beer consumers want to feel like they're buying an upmarket product produced with love and care in small batch breweries, not one that's borrowing capacity from Grolsch and the like.
It's a tension that's led Heineken boss Jean-Francois Van Boxmeer to declare recently: "I'm not going to buy a series of craft breweries and make a craft holding. That's never going to work because what's at the heart of craft beer… are people who set up a shop, go and dig into the immense rich repertoire of beer brewing and of ingredients and reinvent beer. By definition this is not a business we can go into."
Van Boxmeer may turn out to be overly cautious. But it's clear craft beer and big beer can make for uneasy bedfellows, and the UK market might be where we see this play out. Brewers beware.