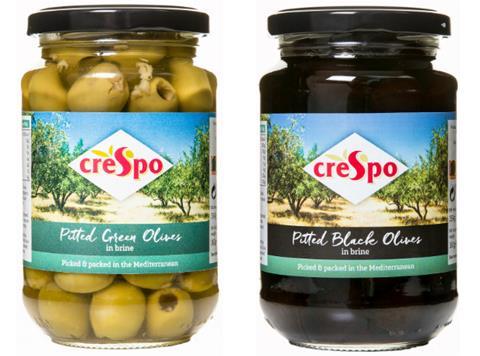 Crespo, the UK's leader in ambient olives, has undergone its first overhaul in at least six years, tapping the trends of Mediterranean diets and healthy eating in an effort to revive interest in its £35m category.
The brand was rolling out a new look for its jars and pouches, along with NPD, to placate shoppers "screaming out for more excitement from the ambient olives fixture" said Sam Higgins, senior brand manager at Crespo distributor RH Amar. "They told us they often found the fixture dull and uninspiring, largely because of the proliferation of own label products, which currently account for more than two-thirds of all sales."
Aimed at making the ambient olive fixture "more eye-catching", Crespo's new look highlighted the products' Mediterranean provenance and "gave the idea of sunshine" Higgins told The Grocer. It would "create some much-needed vibrancy and excitement" she added.
While sales of ambient olives were up 2.6% in value and 2.8% in volume [IRI 52 w/e 26 May 2018], there was "still plenty more headroom for growth".
With marketing planned through social media, digital and print, Crespo will also push the health benefits of olives. "They're high in fibre; they're full of antioxidants," said Higgins. "People know olive oil is good for them, so the next logical step is to eat olives."
In another move to create excitement, the £5.1m [IRI] brand has added its first sharing pouch. It is available as Dry Black Olives and Tomato, Cumin & Parsley Green Olives (rsp: £1.99/150g).
Sharing, snacking and cooking were key opportunities, according to Higgins. "These tasty new additions to our range tick all three usage occasions and we look forward to introducing more products to our range in due course."
Crespo has also refreshed its capers, which are growing "massively" in popularity due to the rise of scratch cooking and their use by celebrity chefs.