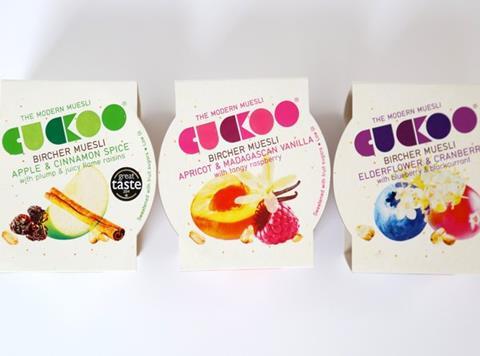 Bircher muesli brand Cuckoo has overhauled its range with a new look and smaller pack size.

Previously in a 190g pot (rsp: £1.99), Cuckoo is now available in a 150ml pot (rsp: £1.50), which founders Anna Mackenzie and Lucy Wright said would make them easier to eat on the move. The new price point, meanwhile, would make the product more accessible to consumers looking for a snack that could be eaten at any time of the day.

The packaging had also been updated, Mackenzie and Wright said, with brighter colours and a bolder design to help improve its shelf standout. The new packs also draw more attention to the product's nutritional credentials and ingredients.

Cuckoo has also signed a distribution deal with Bidvest Foodservice, which supplies corporate caterer Baxter Storey - giving it access to businesses such as UBS and Goldman Sachs.

"We are delighted about our exciting rebrand that ensures our products have greater brand presence on the shelf, while highlighting the quality ingredients that go into every pot," said Mackenzie and Wright. "And the new pack size means that Cuckoo is more convenient than ever for consumers to enjoy while they are on the move."

Available in retailers including Waitrose and Booths, the Cuckoo range comprises five flavours: Mango & Coconut with Lime & Ginger; Choco Sour Cherry with Madagascan Vanilla; Apple & Cinnamon Spice with Flame Raisins; Elderflower & Cranberry with Blueberry & Blackberry Compote; and Apricot & Madagascan Vanilla with Raspberry Compote.