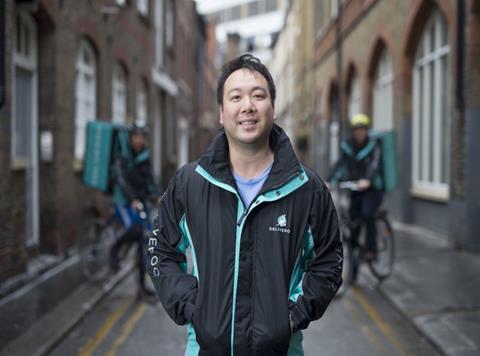 As I write this, Deliveroo is the biggest-trending name on Twitter in London. Tweets about its service have been seen more than 26 million times since 10am, and it hasn't paid Twitter a penny. So what's happened?
Well, the short version is: the restaurant delivery service signed up Jamie 'Omnipresent' Oliver to do a new promo. It didn't, like sort-of-competitor Just Eat, spin its product into an intensely annoying series of adverts. It just got Jamie to announce on Twitter that a free lunch was in the offing, and hungry office workers with an appetite for both hashtags and superfoods did the rest.
This brand-awareness mega-success caps off an impressive week for Deliveroo, which began with it landing an exclusive delivery contract for Pizza Express. This, predictably, generated an awful lot of column inches for the start-up, which allows punters to order takeaway food from restaurants (including those that don't typically offer takeaway options). The sudden addition of 460 wildly popular high street restaurants offered the potential to generate "significant" additional revenue, Deliveroo founder Will Shu enthused. Indeed, Shu said he was so desperate to land the chain as a client that he sent lunch to the CEO of Pizza Express' office every day for a month.
Deliveroo plays in a very particular segment of the foodservice market, but its success holds lessons for grocery retail too – specifically on 'choice editing'. While food delivery industry leader Just Eat and the much smaller Hungryhouse will sign up any old restaurant, Deliveroo is more careful with its curation, and this seems to be paying dividends. As recently as November, Forbes called it a potential "giant in the making", with its latest round of funding valuing the company at $600m (£415m). It also pointed towards the potential for the Deliveroo logistics network to be used for grocery delivery at some point.
While Just Eat and Hungryhouse simply act as the middleman between consumer and restaurant, relying on the restaurant's personal delivery network to complete the transaction, Deliveroo's structure has, perhaps unexpectedly, allowed it to pitch itself upmarket, with Pizza Express being just the latest coup. Restaurants that might have thought themselves a cut above the local cheap Chinese takeaway are being tempted into the fold by the fact they don't actually have to invest in delivery themselves – Deliveroo does it for them. Take my relatively unglamorous South London locale, where Deliveroo can bring me craft beer from a specialist shop, fancy coffees from my local café, any amount of artisan Sicilian pizzas, or buzz-worthy Bodean's BBQ.
So rather than bang away at the fact that food delivery is a thing, and that you can summon a curry to your house now – a fact that's been true since restaurants got telephones – Deliveroo is relying on product to build a buzz. It is allowing the fact that it has exclusive delivery for some of the country's most well-regarded and popular restaurants to create word-of-mouth recommendations. While Jamie Oliver doesn't come free, I'd wager Deliveroo's created a more lasting impression with this week's relatively organic advertising than any number of badly adapted 1980s power ballads requesting Indian food could muster. There's an important lesson in there about quality of product – for anyone in the business of selling food.