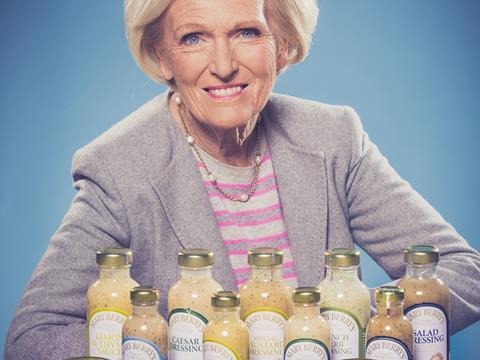 Star power, the X factor, pizzazz - call it what you want, it's in high demand in food and drink. But while most celebrities are used simply to endorse products, stars who have successfully traded directly on their names are few and far between, with the two best-known being Loyd Grossman's pasta sauces and Paul Newman's salad dressings.

That could be about to change. Having found success with chilled desserts and a range of salad dressings and condiments, Mary Berry is set to unveil a nine-strong cake range this spring with Finsbury Food Group.

But is pinning all your hopes on star quality a wise move? What makes them work? And how much of a money spinner can these brands be?

Hoping to cash in on her enhanced fame following Great British Bake Off, Berry's range of dressings and condiments, sold through RH Amar, is "rapidly expanding" and accumulated £1m in sales last year [Nielsen 52 w/e 8 October 2016].

Former Bake Off co-star Paul Hollywood, meanwhile, has used his celebrity capital to launch a range of sweet and savoury baking mixes in November 2015, now worth over £850k according to manufacturer Premier Foods.

But these ranges are small fry compared with the one of the most successful celebrity brands - fronted by a much less talked-about star. "Loyd Grossman is a top example for the retail multiples," says Dr James Cronin, lecturer in marketing and consumer behaviour at Lancaster University management school.

Since its launch more than two decades ago, the Loyd Grossman brand of sauces has grown from a modest range of four variants to over 50. The range racked up sales of £50.2m, making it the second-largest cooking sauce brand in the market after Dolmio [IRI 52 w/e 3 December 2016]. Yilmaz Erceyes, brand director at Premier Foods, says this shows the "continuing strength and star power of the brand and the man 22 years later".
Constant exposure not needed
It demonstrates you don't need constant exposure to build a solid brand. Grossman is less famous now than in the 1990s. "He is less well known for being a TV chef to the younger audience than when the range launched," says Natalie Candy, planning partner at Coley Porter Bell, which redesigned the range in 2014. "While his face moved to the side of the pack, he still remains hands on in creating the sauces."

Other brands don't have such enduring power. Mr T's cereal, launched in the US in 1984 at the height of The A-Team's fame, has long since been discontinued although merchandise is still available online.

The difference between Loyd and the unlikely face of Mr T could be connection with the brand, which is particularly key when it comes to food, argues Dr Cronin.

"Food is something we ingest so when consumers are choosing a brand, that equity is really based on the associations of it, so they're going to look for some level of authenticity. So, to work, the celebrity will already have a footing in food."

This is why so many celebrity chefs - Oliver, Blumenthal, Harriott - have found success in grocery. The trust and knowledge are already there.

Kelvyn Gardner, MD of Licensing Industry Merchandisers Association UK, believes this is why Mary Berry stands a strong chance of succeeding with a cake range. "You're looking for consumer awareness of and affection for that celebrity that can be transferred into consumer products people are willing to buy," he says. "With Mary Berry the obvious thing to do is launch into cakes."
Celebrity label slapping
The proposition still has to be right, though. Antony Worrall Thompson's ready meals range, which hit shelves in June 2008, was axed after less than a year. Manufacturer 2 Sisters says this was due to it being "the wrong product at the wrong time", as the £3.49 rsp failed to convince credit-crunched consumers.

The key is to avoid falling victim to "celebrity label slapping". Pre-dating his career in politics, Donald Trump launched what he dubbed "the world's greatest steaks". Trump Steaks were poorly received by consumers and since discontinued - which James Roles, sales and marketing director at Five by Five, attributes to "Trump's complete lack of relevance to the product, and poor quality".
Closer to home, David Beckham's GO3 omega-3 frozen food failed miserably, despite investment from the footballer.

"If the product quality doesn't stand up by itself then it doesn't make any difference who's fronting it," says Roles. "Consumers won't stay loyal."

With a strong brand fit, Mary Berry's range of cakes therefore have a better chance of taking a large slice of the market. Finsbury will just have to make sure its range lives up to Berry's reputation.