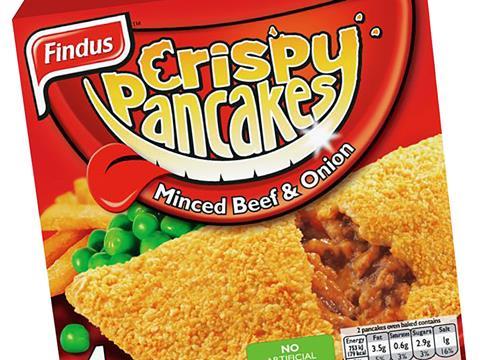 The Findus brand is about to disappear from the UK market, with the iconic Findus Crispy Pancakes to be rebranded as the Original Pancake Co.

Young's Seafood, which has owned the Findus brand in the UK to date, will cease using the brand from this spring, The Grocer has learned.

Findus Crispy Pancakes will then be replaced with a like-for-like product under the new Original Pancake Co brand. The rest of the Findus frozen meals range will be relaunched under a separate Chef's Classics brand.

The Findus brand ­suffered a serious blow during the 2013 horsemeat scandal, when Findus frozen lasagne was found to contain up to 100% horsemeat instead of beef. Young's subsequently pulled the SKU from the market, but it is understood to be returning to that segment of the market with the launch of new lasagne and spaghetti bolognese SKUs under Chef's Classics later this year.

The company declined to comment, but it has ­registered trademarks for Original Pancake Co and Chef's Classics with the Intellectual Property Office.

The European arm of the Findus Group was sold to Nomad Holdings in a £500m deal last autumn, with Young's Seafood International Holdings spun out as a separate UK company.

It is understood rights to the Findus brand - including in the UK - transferred to Nomad following the deal; Nomad declined to comment on whether it plans to sell any products under the Findus brand in the UK.

Findus Crispy Pancakes are currently listed in Asda and Morrisons as well as on Ocado. Findus frozen ready meals are no longer listed in any of the major mults, according to Brand View.