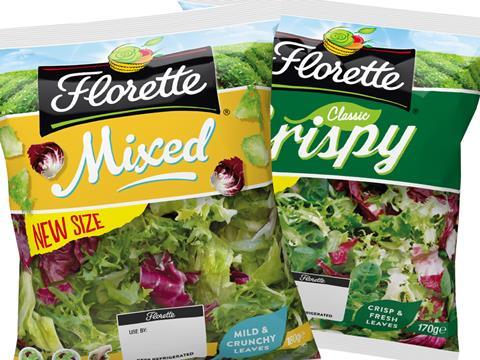 Florette has undertaken the "biggest ever" overhaul of its bagged ­salads range in an attempt to reduce wastage and revive the category's ­flagging sales.

The £6m revamp, which will begin rolling out from next week, will see Florette introduce new pack sizes and better on-pack communication explaining the number of portions in each bag.

Changes include its 200g bag of iceberg being reduced to 150g, the equivalent of one plateful or two side dishes. Its 70g bag of peppercress has been reduced to 50g, the equivalent of two side salads or six handfuls.

In light of media coverage of 'shrinkflation' - reducing packs while keeping the same price - MD Neil Sanderson stressed the move was about changing both pack size and price "in proportion to meet consumer needs better".

Prices for iceberg bags have fallen from £1 to 79p, while the cost of the smaller peppercress bags has fallen from £1.20/25 to £1.

"We are responding responsibly to the desire for reduced wastage and making shopping for salads easier," he said.

Research by sustainability charity Wrap in 2012 found 37% of all bagged salad sold in the UK was wasted at home, while 2013 analysis by Tesco of its own data and industry-wide figures suggested as much as 68% was wasted.

With wastage a key barrier to purchase, Florette commercial director Sandy Sewell said it was "time to change".

A spokesman for Wrap welcomed Florette's move. "Giving consumers clear guidance on storage to help keep food fresher for longer, and helping to advise on portion sizes are good ways to help tackle household food waste," he said.

The overhaul, which also includes a new Florette logo and artwork redesign, will be supported by a multi-channel marketing campaign.