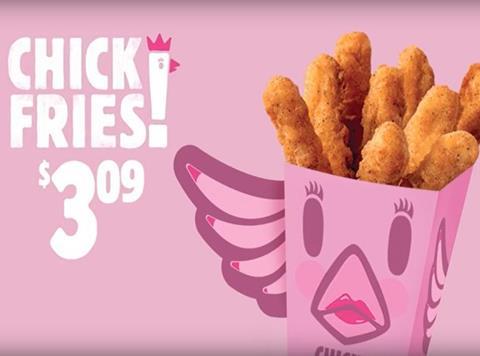 Women, eh? Slap a pink label on a product and our minds go into a frenzy. Jazz it up with some pretty designs and we'll pay anything. Except we won't, as yesterday's social-experiment-slash-righteous-marketing-stunt from Burger King proved.
Punters at its US restaurants had a choice of two orders of fries: chicken fries for $1.69 or 'chick' fries for $3.09. The difference? Nothing, except chick fries came in some girl-tastic pink packaging with a pink hen. (Plus some of the sultriest eyelashes ever seen on poultry.) As Burger King's tongue-in-cheek marketing put it: "The same chicken fries you love but for way more. Because girls like pink sh*t."
The standard chicken fries were off limits to female customers, who were understandably miffed. Cue scenes of teams weakly defending the price difference. "It comes in a cute little box. She's got eyelashes and a bow," a staff member explains to one customer, who looks decidedly unimpressed with big-eyelash hen. Unsurprisingly, she (and others) refuse to pay more.
It all, of course, turns out to be a big marketing stunt by Burger King. After vocally disputing the 'chick fries', customers are asked whether they would question paying $2 more for their razor blades in a drugstore. Pink hen looks on in silent, eyelash-filled disappointment.
Burger King points out that, in the US, 42% of women's products cost more than men's equivalents. In the UK, women are estimated to pay 35% more for toiletries on average.
Admittedly, the stunt could come across as a contrived way of positioning Burger King as the social justice warrior of fast food restaurants. Yet it highlights an important point. Amid all this talk of women paying more comes the recurring question: why don't women just buy the cheaper men's products? Are they so blinded by pink that they abandon all reason? And if that's the case, aren't they as much to blame as the manufacturers?
This experiment shows that, when given a straightforward choice between a standard product and a pricier pink one, women aren't prepared to pay the so-called 'pink tax'. The reason the issue persists is not because women are willing to give in, but because marketing and positioning are far cleverer than that.
Sometimes there may be genuine benefits offered by female products (women's moisturiser, for example, mostly has a different formula to that of men's). Other times the female products are positioned elsewhere in store. Women's razors, for example, are usually stocked in an entirely different area to men's. So unless women are studiously going around the store to compare prices, they are unlikely to realise their pink ones are pricier.
Then there are the products that claim to offer some woman-specific benefit. Just a quick glance at the supermarket pain relief section shows period pain products (packaged in pink, of course) are some of the priciest on the market. Just this week, The Guardian wrote a piece on the rise of 'women's tea'. This includes tea designed to lift women's energy through the use of hibiscus and angelica root, because "women are able to carry the entire world within themselves". There's also a cranberry and rose tea that promises to help women "balance and bloom". It goes without saying none of these brands are cheap.
That's not to say all gendered products are rip-offs. But women are waking up to savvy marketing. So if you're charging extra for a woman's product, there should be a clear and justifiable reason. In the words of Burger King, "pink sh*t" just won't cut it anymore.