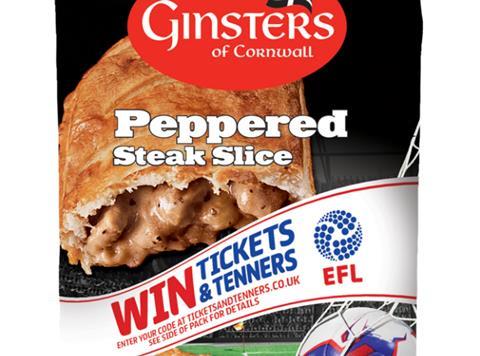 Ginsters has signed as an official partner of the English Football League and announced its biggest on-pack promotion.
From 5 August, the savoury pastry brand will hold exclusive rights as the EFL's official pasty, slice and sausage roll supplier.
To mark the tie-up, Ginsters is to launch its largest on-pack drive, Tickets & Tenners, which will offer shoppers the chance to win £3m of prizes. The push is set to begin on 10 September across 40 million packs in the Ginsters portfolio. Prizes include season tickets, pairs of match tickets and cash.
With 72 teams across three EFL divisions, Ginsters hopes the sponsorship deal will help increase engagement between consumers and local football clubs.
"We know Ginsters consumers are huge football fans, which is why we are committing to our most comprehensive support for the game and the brand to date," said MD Kieran Hemsworth.
The EFL – which will kick off its 2016/2017 season on 13 August – estimates it has 16 million fans, 42% of whom are more likely to buy brands when they are associated with the league.
"As a nationally recognised brand that remains ingrained in its local community, values its heritage and recognises the important role football can play in society, Ginsters is an excellent fit as a partner for the EFL," said the league's chief executive, Shaun Harvey.