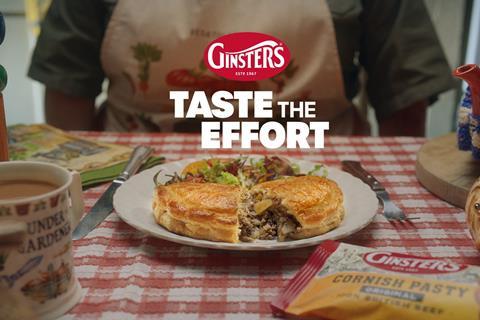 Savoury pastry brand Ginsters is ploughing £4m into a marketing campaign aimed at playing up the quality of its products.
Called 'Taste the effort', the ad campaign will span TV, out of home, social media, PR and shopper marketing.
It highlights the "high-quality British and local ingredients that go into all Ginsters' products", said the brand.
The TV ad, which will premiere on 6 October, tells the story of local Cornish farmer Merryn, who goes "above and beyond with the effort she puts into growing the highest quality vegetables for Ginsters' delicious and iconic pasties".
Running until late November, the ad aimed to "shine a spotlight on the dedication and care" that goes into making Ginsters' range.
It was the brand's "biggest and most ambitious spend to date", projected to reach 90% of all UK households.
"We are really excited to launch our new 'Taste the effort' campaign," said Ginsters marketing director Emma Stowers.
"This significant investment in our new brand platform and brand identity will bring excitement to the category and dial up a strong association with the quality and delicious taste of our products."
The brand is also launching three SKUs this month – BBQ Hunters Chicken Slice, Smoky Beef Chilli Pasty and Spicy Mexican Bean Bake – targeting shoppers seeking Mexican and modern British flavours.
It comes after Ginsters rolled out new-look packaging in August.