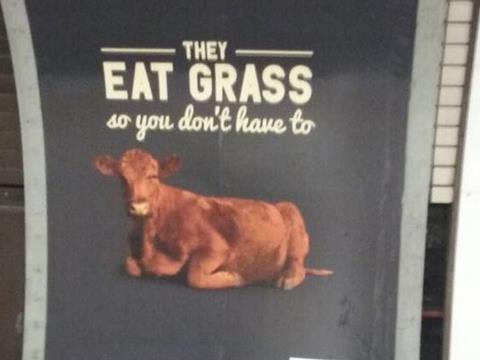 A burger commercial, which told consumers "You'll always remember when you gave up being a vegetarian", was the most complained about food ad of 2016, according to a new report by the Advertising Standards Authority.

The campaign by Gourmet Burger Kitchen received 195 complaints for allegedly being offensive to vegetarians and vegans.

The ad campaign featured others that said: "Anyone fancy a nice, juicy, 6oz lettuce?"; "Resistance is futile"; "Burger is the new quinoa"; and "They eat grass so you don't have to" with a picture of a cow.

The complaints were not upheld by the ASA but some were withdrawn after it contacted the company to let it know about the response

"We took no further action on these two ads as we considered they were likely to be interpreted by most viewers as general references to ingredient and food trend preferences rather than broader comments on vegetarianism, veganism or other beliefs," said the ASA.

Mars also managed to upset consumers, with 157 complaints for its Maltesers campaign, which showed a woman in a wheelchair discussing her new boyfriend with two of her friends while enjoying packs of the chocolate.

The woman mentioned how her disability caused her to have a spasm during a romantic encounter, which her boyfriend "misinterpreted".

Viewers complained that the ad was overly sexual and was offensive to disabled people.

However, the ASA ruled it was likely to be seen as "lighthearted" and the "allusion to a sexual act, although understandably distasteful to some, would not cause serious or widespread offence to viewers in general."

The ad was also shown after the post-9pm watershed.

The third most complained about ad did see complaints upheld. Walkers Snacks' TV and online campaign for the Spell & Go sales promotion for Walkers Crisps saw participants required to spell out the name of destinations for an opportunity to win one of 20,000 holidays.

The ad was banned after 112 consumers complained that the trips on offer were virtually impossible to win.

The ASA's annual report showed that complaints about food and drink ads were on the rise, with 2,160 in 2016, an increase of 13%. Retail received 3,894 complaints, a rise of 3%, but alcohol ads saw a slight dip of 3% to 114 complaints.