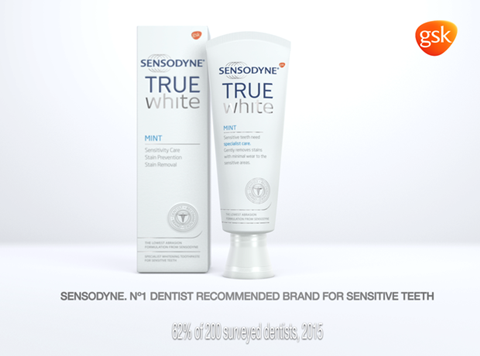 GSK has launched a £1.3m TV push to support its new Sensodyne True White toothpaste duo.
The four-week TV campaign kicked off last week to establish the newcomer as a 'specialist' whitening product for sensitive teeth. Other activity includes consumer print.
The two-strong Sensodyne True White range was rolled out across the trade at the beginning of this month and comprises Extra Fresh and Mint variants (rsp: £7.99). GSK claimed the products were 10 times less abrasive than "many everyday" toothpastes.
The supplier last month announced it was aiming to reduce shopper confusion - and respond to ongoing retailer range rationalisation - by 'simplifying' its Sensodyne range. The number of SKUs were cut from 27 to 19, and the brand was segmented into two "clearly defined" sub-brands - Advanced and Essential Care.