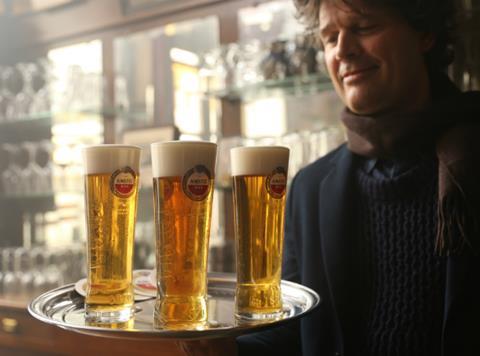 Heineken is today launching the first TV push for its premium Amstel lager, to support the brand's relaunch earlier this year.

The ad, which will make its debut tonight (20 June) during the England versus Slovakia match in the Euro 2016 tournament, was filmed in Amsterdam and has been designed to highlight the brew's Continental origins. It follows Amstel's UK off-trade relaunch in March, which saw the beer become available in cans for the first time.

Telling the story of Jaap, the owner of Amsterdam's smallest bar, where "the whole of the capital" comes together to enjoy a glass of Amstel, the commercial would showcase what the lager stands for: "bringing people together for quality moments", said UK brand director David Lette, adding the campaign reflected "significant investment focus" from Heineken.

"We are looking forward to maximising our partnerships in the off-trade to make the most of the increased consumer excitement around our engaging new TV ad."

Despite his bar only seating six people, Jaap spends his spare time collecting chairs. At home, he has over 400 chairs that he uses every few years when the canals freeze over and his tiny bar sprawls out on to the ice and becomes Amsterdam's biggest .

"Amstel was successfully launched more widely in to the off-trade with significant investment, and this will now be bolstered by substantial investment in this TV ad," said Lette.