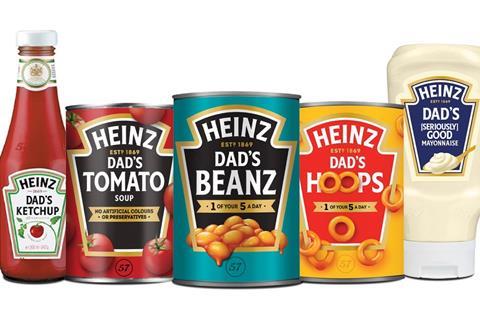 Heinz is offering personalised versions of six products through its recently launched direct-to-consumer channel Heinz to Home.
Customers can add names to 460g top-down plastic-bottled and 342g glass-bottled Heinz Tomato Ketchup, 395g plastic-bottled Heinz [Seriously] Good Mayonnaise, and 415g cans of Heinz Beanz, Hoops and Cream of Tomato Soup.
The personalised items are on sale for £5.49 each plus a £3.50 delivery charge. Customers can add a gift box with a custom message to their order for £1.
The initiative has been launched in time for Father's Day but will run throughout the year "meaning it'll also make a great birthday or Christmas present. Or even a simple thank you to someone who has been kind to you" the company said.
Heinz To Home was built in three weeks and launched in April, becoming Heinz's first consumer-facing e-commerce site. As well as the personalised items, the site sells an 'Essentials' 16-can mix bundle, as well as sauces and babyfood packages.
"This platform in the future is probably not a sales channel but a data and insight channel," Kraft Heinz head of e-commerce Jean Philippe Nier told The Grocer last month.
Heinz has offered personalised products before. In 2017, the company allowed customers to order cans of beans with their name after 'Beanz Meanz' on the label.
"Whilst lockdown may gradually be easing, there will still be some families in the country who can't see each other or won't be able to celebrate in the usual ways, which we know will be hard on Father's Day," said Heinz Meals marketing lead Matthew Mill.
"So, we hope this new personalised gift service will help sons and daughters across the UK show their love to their Heinz-loving dads in a safe, thoughtful and fun way. Dads are notoriously hard to buy for, but what dad wouldn't love his very own personalised bottle of Heinz Tomato Ketchup or can of Beanz?"