Festivals are a great way to build engagement. As retailers finally get in on the act, we talk to food and drink brands who are old timers at this game
For many the start of summer means one thing and one thing only. Festival season. More than seven million people donned their glitter, wellies and flower garlands in 2018. Every year that number swells as new festivals emerge, with a staggering 700 events in this country alone.

Excited festivalgoers aren't afraid to shell out for a good time either. Annual consumer spend on the UK festival circuit is fast approaching £200m a year, with alcohol accounting for more than half of those sales, according to research group CGA. The report found festivalgoers spend an average of £32.27 a day on alcohol and £23.71 on food.

It's unsurprising then that fmcg brands and retailers are increasingly spotting the opportunity to use such events as a platform not only to promote but also to sell or sample products. So how are they going about it? What are the pros and cons to weigh up? And who are we most likely to see by the main stage this summer?

For years now food and drink brands have been mixing it at festivals. Brothers Cider took its first stand at Glastonbury in 1995. And the list of startups who can credit the genesis of the business to a music festival includes Innocent (1998) and Shaken Udder (2004).

Retailers, on the other hand, are a more recent arrival on the festival scene. Last year, the Co-op became the first major supermarket to sign a deal with Live Nation for pop-up stores at four major music festivals - Download, Latitude, Reading and Leeds. The partnership proved so successful that this year the Co-op will be doubling its roster, adding Creamfields, Isle of Wight, Belladrum and Glastonbury.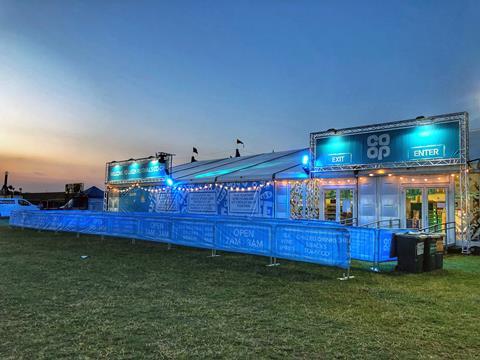 At its most straightforward the grocer has spotted a good opportunity to make money. "Retailers situated close to summer festivals have the perfect opportunity to cash in on the event, especially with impulse and link sales," says Thomas Bennett, trade marketing controller at Global Brands.

"Retailers will want to be prepared for the surge of footfall around the event by stocking and planning their store set-up accordingly. For example, ready-to-drink (RTD) is a category currently worth £280m in the off-trade, with cans dominating. Placing well-loved canned RTDs in a prominent space next to other festival essentials like sun cream and snacks will encourage impulse and link purchases."
"People were really looking forward to coming back to Latitude this year, but mainly because they wanted to go to the Co-op and have a party"
However, Amanda Jennings, marketing director for Live and Local at Co-op, is quick to point out that cold hard cash shouldn't be the biggest motivation behind a brand or retailer heading to a festival. The Co-op is "not doing this to make money", she says. The group did not turn a profit from the festivals it traded at last year, although Jennings' ongoing goal is for it to become cost-neutral.
The main reason Co-op went into festivals was the potential for bolstering brand awareness. "It was marketing gold," she says. "I think possibly that's because it wasn't marketing. Customers and colleagues interacted in a way I'd never seen before. Live Nation's feedback was that people were really looking forward to coming back to Latitude this year, but mainly because they wanted to go to the Co-op and have a party."

Done well, festivals are a great way for a brand to stand out with consumers in an environment with few competitors, says Amy Ritchie, client services director at creative agency Twelve. "You've got a confined group of people who you can keep serving your message and engagement to time and time again, without risk of them going off to a competitor brand."

This tactic is especially effective if you can get "category exclusivity", she adds. "Ultimately it comes down to the contract you're getting in place with the festival organisers and, as with everything, how much money you're putting into it." For example, when Kellogg's or Weetabix do pop-up breakfast cereal activations, they will make sure they are the only breakfast cereal at that festival, she says.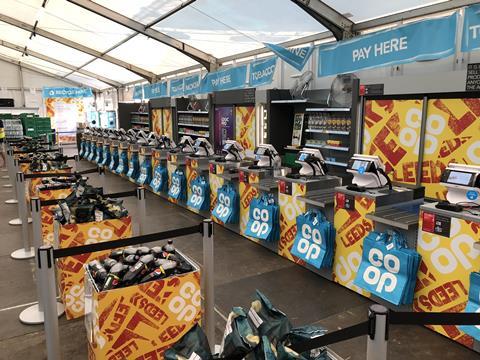 Halo effect
Crucially festivalgoers are there to have a good time, and will associate any brands there with that good time. This 'halo effect' can even carry into their normal lives. The CGA report found that one in three festivalgoers are likely to repurchase new drinks tried at festivals when back in "normal" shops and bars. And with all this opportunity the expansion of the Co-op deal has sparked speculation about which retailer will be next.

Ritchie insists any other supermarket considering this as an option should ensure they are bringing something "unique and different". "For Co-op it works well because it mimics some of their more recent store openings, which are looking to be smaller format and are there for convenience." However, she adds, "someone like Sainsbury's, Tesco, Asda - which are much more known for their larger imposing stores - would need to be careful coming in to a festival to make sure it had that caring aspect."

A festival pop-up might work for the likes of Budgens or Little Waitrose, which are smaller format, she suggests. However, any shop looking to come in must differentiate themselves, whether through focusing on stocking local produce, offering a pre-shop, or even a tent delivery service - something which she suggests would be "way in the future".

Ritchie warns against going in with a "hard sell", which consumers can smell a mile off. A brand should focus instead on giving festivalgoers something they actually want. She cites Orange/EE and its "chill and charge" tent at Glastonbury as a good example. "They tapped into that from a very early stage - how do we give people the opportunity to charge their phone but not feel they're missing out?"

One retailer looking to rise to the challenge is Lidl, which will be attending two festivals this year - Geronimo and Kendal Calling. The grocery chain will be hosting a covered stand which will focus on encouraging children to eat more healthily. Rather than host a pop-up shop like Co-op, Lidl will put on a series of activities and will allow visitors to sample products.

In this way the discounter has tapped into the far more diverse program now common at UK festivals, which have gone way beyond simply music. Chris McCormick, director at brand partnership agency BluePeg - which has partnered with Lidl for the activation - says "one of the things that music festivals used to be, and can be perceived as being, are events where consumer experience is poor, but this is not the case anymore."

For Rachel Bateman, head of experiential at creative agency Initials, this provides brands with more opportunity to engage through activities such as mindfulness, relaxation, arts, crafts and debates.
The downsides
So with all this opportunity, what can go wrong? Well, for one, mother nature. Festivals are after all almost exclusively outdoor events, so there is an ever-present threat of rain, storms, wind, and whatever else the British weather decides to throw out.

"Operating at a festival will be the very best and the very worst of conditions," says Ritchie. "And you can't do anything by halves. The repercussions of giving people a half-hearted experience, or running out of products because you haven't managed to get your van across the mud, goes beyond just the festivalgoers having a negative impression, it lasts forever - they will go and speak to their friends and you will always be remembered as the brand who messed up."

Any brand must therefore make sure all eventualities are considered, with a robust contingency plan for any unexpected conditions.

Trading at festivals isn't cheap either. A brand could spend tens of thousands for some of the more well-known events.

This expense is the primary reason Higgidy left the festival circuit. MD Mark Campbell says: "When we first started out, festivals were the perfect place for us to showcase the Higgidy brand and our products. But, with the increasing costs and pressures festival organisers are no doubt under, this meant that it just became too expensive for brands like ours to attend."

Jim Cregan, founder of Jimmy's Iced Coffee, says: "It all depends on the festival. For mainstream festivals, you're going to be paying at least £15,000 or £20,000 for a pitch."
"It's not cheap. You'll need to rent vans, trucks and refrigeration, pay for power and for people to get there and stay there"
"It's not cheap," agrees Pieminister MD Jon Simon. "You'll need to rent vans, trucks, refrigeration, and pay for quite a lot of power on-site. There are obviously pitch fees, and then you've got to pay for people to get there and stay there. You've got to try and sell everything - if you can't, then [there are waste considerations]."

As well as the size of the festival, the cost also depends on the scale at which a brand gets involved. Camilla Barnard, co-founder and brand director of Rude Health, says: "Sometimes it's just a stock cost around £2,000. In 2017, we rented and branded a Rude Health van and sold porridge out of it to campers at the Good Life Experience.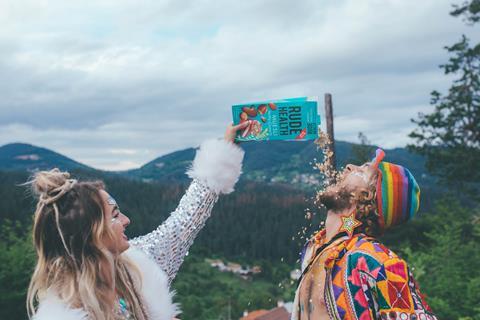 "For that festival, the costs not only included the van but also our marketing team's time, travel and accommodation and the pitch fee. In total it came to about £12,000 - but it was worth the spend for the quality of engagement and exclusivity of being the only breakfast brand there."

Rude Health says it steers clear of the larger festivals. Barnard says one of the biggest risks associated with trading at festivals is that the "cost and effort fall short of the outcome". "We often find that festivalgoers attend [the big festivals] for the music and to have a good time, so it's not actually a great opportunity to try and engage with them on a meaningful level."
Risks
And just as brands can enjoy the halo effect of a festival going off without a hitch, they must also beware of the damaging effects of a festival gone wrong. "In these instances, brands run the risk of being associated and their reputation effected," says Bateman.

McCormick points out this effect is enhanced by the immediacy of social media. "The experience is instantly reacted to now via social media, so everyone involved has to be completely transparent and the experience has to be second to none."
Ritchie warns that a brand must "do its homework" about a festival before parting with any cash, to ensure it is going to be activated in the way that is beneficial to the brand and will do everything it promises. She cites the extreme example of Fyre Festival - a failed "luxury" music festival founded by Billy McFarland, CEO of Fyre Media, and rapper Ja Rule, to promote the company's app for booking music talent. Guests arrived expecting luxury yachts, villas, wellness activities, free-flowing booze and celebrity chefs, but were instead housed in Federal Emergency Management Agency tents and fed stale sandwiches. McFarland was jailed for six years in 2018 for fraud.


"It's easy to look back and say: how could people be so fooled?" says Ritchie. "But I've sat in so many presentations of festivals selling to brands to come and be part of it - they can tell you what you want to hear, but you've got to make sure they're going to deliver on it, and that you've understood what the organisers want to achieve.

"When festivals go really well, a brand will always have the halo effect from it, but if it goes badly, you don't want to be part of that casualty."

There is also the risk a festival might dump your brand. Pieminister was a Glastonbury staple from 2004 until 2014, when it was surreptitiously dropped. Simon is still unsure why, as he believes the company fits with the festival's ethos.

"We make our pies with free-range local meat and we're local, and had a huge following every year we were there," he says.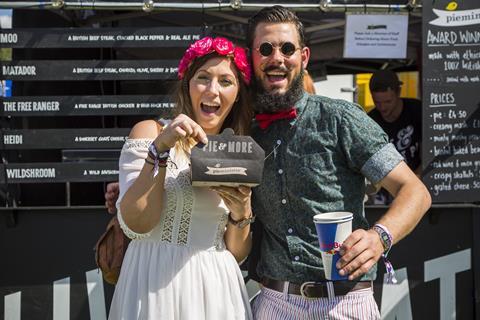 Ethos
To avoid some of the risks associated with festival partnerships, brands and retailers must ensure their wants and needs are aligned when it comes to branding and immersive experience opportunities. They must also ensure their brand fits with the festival's ethos and demographic.
"Festivals might not want everything plastered with a brand's logo, but the brand has to make sure it has the right visibility"
"Festivals will often have their own particular view of how they want brands to operate and run," says Ritchie. "They might not want everything plastered with their logos, but the brand has to make sure they're getting the right visibility and appeal.

"Ultimately it's about making sure everyone's priorities are aligned - the best activities are from brands that provide an immersive experience in line with what the festival is about. That's what festivalgoers can really relate to, if they feel it's continuously at flow with what they've come to the festival for.

"Festivalgoers can also see a mile off when a brand looks like it's there for the sake of it and it's commercially driven, and it's not giving anything back. That can really turn people off because they're in a very open environment where they just want to have fun."

If brands don't fully research the festival they are targeting, Bateman warns there is a risk they will not be able to fully leverage all the potential opportunities.

"If your brand only has relevance at certain day-parts, there is a risk of not being able to capitalise on the full reach potential. There is also a risk of getting lost amongst the other brands and experiences."

That's because while some established festivals, like Wireless, Reading and Leeds, rely on their music line-up to drive the bulk of ticket sales, others, such as Boomtown and Boardmasters, focus more on the broader experience.
"Events like Boomtown and Boardmasters form deeper bonds with their audiences and require more from their sponsor partners"
Simon Evans, creative director at RPM, says: "Boomtown transports punters to a curated multifaceted city and Boardmasters delivers a Cornish surf lifestyle experience. These events form deeper bonds with their audiences and in turn require more from their sponsor partners, adhering to stricter guidelines and being encouraged to produce a custom experience."

However, he adds, for this to work, it requires a closer dialogue between sponsor and event team, a better understanding of the festival's brand proposition and a willingness to adapt to best fit into that festival's world.
Collaboration
"Glastonbury and Co-op have a shared ethos of community support and ethical values, meaning it doesn't feel crowbarred in, and is providing festivalgoers with exactly what they need - food, drink, sun cream, ponchos, chargers," he adds. "This type of collaboration, if done well, will allow fmcg to get more out of their association with the festival and vice versa."
On the flipside Yeo Valley, which has attended Glastonbury since the early 2000s, has taken the decision not to be there this year.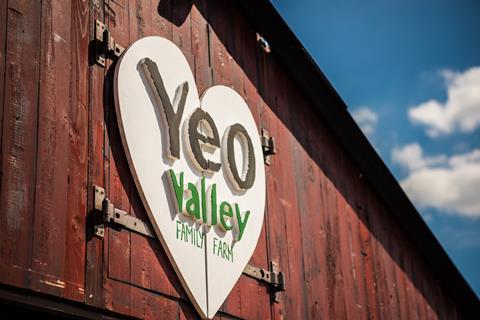 "It's more important for us to be a catalyst for creating a show piece for organic food and farming, than it is to be a sideshow at the juggernaut that Glastonbury has become," says the brand's owner Tim Mead.

The dairy company now supports Valley Fest - a local organic food and music festival based in the south west. Mead says: "We are the main sponsor and, therefore, can tailor our involvement to suit the needs of the brand. Valley Fest is becoming the "go to" organic festival in the UK, which is more relevant to our brand. It has much more of a family feel than Glastonbury."

Yeo Valley is not the only brand to have abandoned Glastonbury of late. Thatchers Cider has also announced it will not be attending this year, for the first time since 2014. It will be succeeded by Mallets - a subsidiary of Brothers - as the main cider provider.

It's proof that an event's size and scale doesn't always translate into the biggest opportunity for brands or retailers. With a growing roster of festivals emerging the length and breadth of the UK, each attracting a different crowd with a different offer, companies need to do their homework to ensure they make the most of the season.