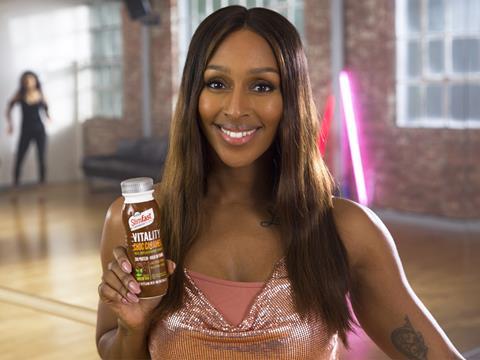 The grocery world is dominated by megabrands that have spent decades achieving scale, but such brands sometimes struggle to reinvent themselves when sales start to slow. An entrepreneurial mindset can help them break out of old patterns and revive their fortunes.
One of our clients, SlimFast, recently faced precisely that challenge. SlimFast had been a leading brand, but it had become dated in its approach. Younger consumers viewed it as almost like a medicine, and it didn't appeal. The whole approach to branding had to be turned around to have a more lifestyle orientation. People want a brand that fits in with their lifestyle, not something they have to bend to.
We helped Slimfast completely overhaul its approach with a brand ambassador, Alexandra Burke, who young women could relate to, and new products, porridge and noodles that provided meal solutions to fit into busy days.
So what can other 'heritage' brands learn from this? A massive motivator for entrepreneurial brands is having 'skin in the game'. Whether they're privately owned or have private equity backing, management of these brands can draw a very direct line between what they do and how the brand performs. That really focuses the mind on what delivers sales.
By contrast, when you're one brand among many in a huge consumer goods group, it's easy to get out of touch. One of the problems older fmcg brands face is that brand heritage can be a brake on growth. Many brand managers of conglomerate-owned brands are overly protective of the brand, even if continuing with the same tried and tired approach isn't benefitting the brand.
An agency working with a team that has that ownership of a brand has to help it change things quickly. Clever brands take the opportunity to reassess what really works in their marketing.
Neuroscience allows you to identify what assets and type of content get the consumer's attention. Often what comes across as the most remembered element of a brand is not the mega-bucks TV ad, but a logo, colour or even a slogan.
Those of a certain vintage will remember Wash n Go shampoo from the 1980s, when it was one of the biggest men's grooming brands for P&G. After being sold a few years ago, it no longer had the same budgets, but its iconic advertising meant it had a residual awareness among consumers.
The brand created a disruptive series of digital comedy shorts featuring ex-footballer Robbie Savage in a supposed quest to become a hairdresser. The gently mocking series raised awareness of the brand, giving retailers a reason to continue to support it at a time when it could have been seen as past it.
It's unlikely P&G would have felt able to take the mickey out of one itsbrands in this way. It took an entrepreneurial team focused on delivering results, rather than protecting redundant brand values to do so.
Rather than being shackled to brand history, an entrepreneurial approach allows brands to write a new chapter in their story.
Neil Davidson is managing director of HeyHuman