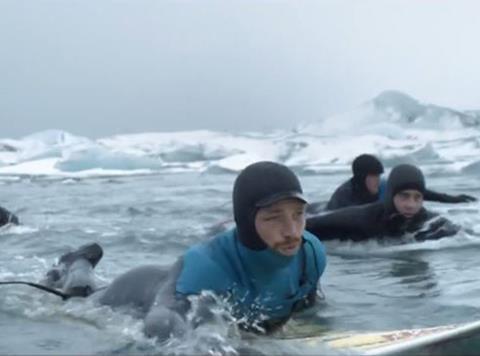 Jägermeister's first TV ad in the UK has been banned by advertising watchdogs on the grounds that it links alcohol with daring and irresponsible behaviour.
The Advertising Standards Authority (ASA) ruled that the Icelandic surfing TV ad, which first aired on TV in March, was irresponsible because it provided a clear association between the alcoholic product and tough and daring behaviour.
The "epic" ad portrayed a group of friends on a road trip through remote scenery in Iceland, before going surfing in the ocean. They are later shown in a bar toasting each other with a Jägermeister shot.
The ASA noted the potentially dangerous activities of driving in difficult icy conditions and surfing in cold and rough waters, both of which it considered to be demanding and challenging activities. It said that although the group were not shown consuming alcohol, and there was no suggestion that they had done so, prior to the evening when they were shown in a bar, the ad nonetheless made the connection.
However it did not uphold two further complaints that it encouraged irresponsible and immoderate drinking and implied that alcohol was key to the social success of the occasion.
Brand owner Mast-Jägermeister UK brand, which invested £3m in the campaign, defended the ad, highlighting the large amount of equipment, and high level of skill of the actors, which made it clear their actions were in no way irresponsible. It added the actors were chosen because they looked like experienced 'outdoor' men with the stamina for such an expedition and any association between the drink or the brand and the surfing scenes had been avoided.
The ad was approved for airing by Clearcast, which said that the clear separation of the scenes of surfing and the alcohol ensured there was no implication that the product contributed to the group's ability or inclination to surf. It also said it believed the story to be focused on friendship and brotherhood, rather than one of daring or tough behaviour.
However, the ASA ruled the ad must not be shown again in its current form.