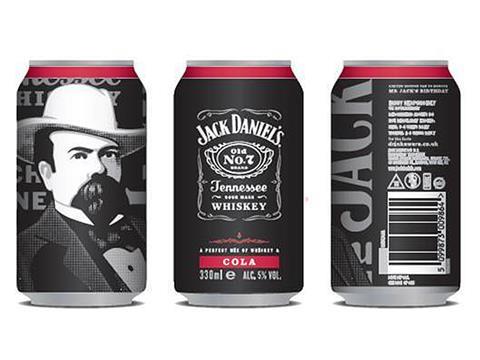 Jack Daniel's is to launch a redesigned limited-edition can of its premix whiskey and cola as the brand gears up for a month of birthday celebrations.
The 330ml 'Jack the Man' can (rsp: £2.20) will feature the face of Jack Daniel, who the company says was born in September, although his exact birthdate is unknown (it is usually put at around 1850).
The design will be rolled out to major retailers on 1 September alongside bespoke displays and in-store promotions, as part of the month-long birthday campaign.
Bottle neck tags, hanging flags and aisle fins featuring the #SpiritofJack hashtag will also direct shoppers online, giving them the chance to win prizes including exclusive limited-edition Jack Daniel's glassware.
"Ensuring that the iconic revelries remain relevant and appealing to the brand's target market, the glassware promotion taps into the growing trend for personalisation whilst the limited-edition premix can is set to appeal to existing brand fans," said Crispin Stephens, trade marketing manager at Jack Daniel's.
"Both activities in combination with ATL advertising, PR and social media campaigns will ultimately help drive sales outside of the Christmas trading period for retailers."