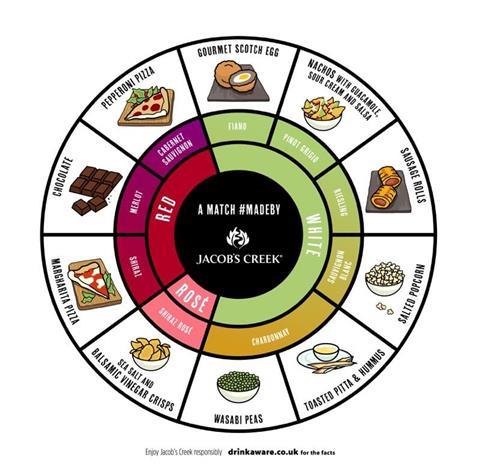 Jacob's Creek is aiming to 'open up' the world of food and wine pairing to the 71% of UK adults who see wine selection as snobbish, with a new matching guide for snacks.
The Pernod Ricard brand surveyed 2000 adults in order to understand which foods the public likes pairing with wine. It found that more than half (57%) regularly replace evening meals with snack food, and that among snacks people enjoy having with wine are pizza (59%), nachos (38%) and pittas and dips (33%). 51% also said they would like to know more about which wines go with the food they eat.
To prepare the guide, which pairs 10 of the most popular snacks with Jacob's Creek varieties, the winery flew its expert wine maker Rebekah Richardson to the UK for a tasting session with TV chef Jo Pratt. The choices, which can be seen now on Facebook, include pepperoni pizza with cabernet sauvignon, wasabi peas with chardonnay, and sea salt & balsamic crisps with shiraz rose.
"There are plenty of guidelines out there about the best wines to drink with main meals but there isn't really any inspiration for which wines to enjoy with smaller plates or snacks," said Pratt. "So it's brilliant to know you can now enjoy a delicious wine that perfectly complements the flavours of whatever you're eating."