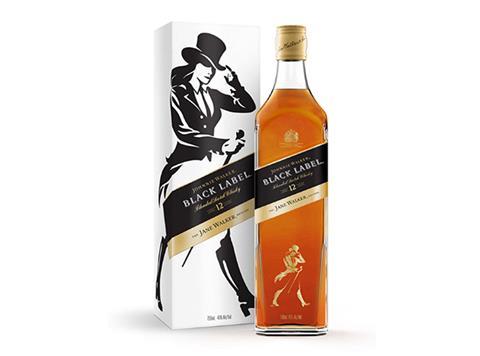 You know the old joke: a man walks into a bar and asks for a glass of James Walker.
The bartender laughs. "It's called Johnnie Walker," he says. To which the punter responds: "Not when you know him like I do."
Diageo's bestselling Scotch has a lot going for it: it's a globally recognisable brand with a solid reputation for taste (Blue Label is deemed by many a whisky connoisseur to epitomise the heights a blended Scotch can reach). In the UK, it's managed to retain shoppers' interest despite an overall drop in interest in blended Scotch (if you didn't already know, single malts – and posh craft gins – are where it's at right now).
But this week whisky drinkers are sharpening their pitchforks for the brand amid claims its latest NPD, the Jane Walker edition, which features a new female mascot, patronises female consumers, reminiscent of the 'beer for women' or 'BiC for her' debacles.
Diageo says the move "widens the appeal of the product while celebrating women", with the brand's VP Stephanie Jacoby claiming the Scotch category has previously appeared "intimidating" to women.
Changing a brand to deliberately pull in a different market is one thing (every other day now it seems some ailing megabrand or other touts a fresh look to target the elusive 'millennials'). But this is silly and short-sighted, to say the least.
The idea that women "can't handle" the tipple in its original form is patronising at best, downright sexist at worst. Indeed, writes Jezebel's Kelly Faircloth: "Nothing feels as inviting to me, personally, as a logo featuring a lady in jodhpurs and being informed that Scotch is 'intimidating' to women."
But while Jane Walker may be a significant misstep, Diageo has taken serious strides to address gender equality in the company over past years. At the very least, it's important that this week's news is looked at in context.
In the last six months alone, Diageo has published an extensive report into the gender pay gap in its business, with plans under way to introduce an internal job-sharing portal to increase the amount of flexible jobs that can be shared between employees unable to work full time, and to roll out an Unconscious Bias in Talent Assessment training programme for its hiring managers in Scotland, where it revealed a substantial gap in pay between men and women (men were paid 16.7% higher than women, the report found).
It's also topped a recent ranking of FTSE 100 companies for gender parity in the boardroom thanks to its significant numbers of female directors who include CFO Kathy Mikells. Plus, it's signed up to Free The Bid, a campaign promoting equal opportunities for women in advertising. And that's without mentioning that for every bottle of Jane Walker sold, Diageo will donate a dollar to organisations that support women's causes.
Bear in mind, this comes at a time when the drinks industry is finally being forced to reckon with sexism and misogyny. This morning the Society of Independent Brewers announced plans to create a marketing code of practice for craft brewers, following rising outrage at demeaning beer labels, with the organisation stating there is "no place" for them in the industry.
There are still those who produce and defend 70s-style pumpclips adorned with badly illustrated scantily clad women like it's going out of fashion. There are still those who think it's acceptable to include the disgusting term 'US negro' in a crossword clue in a regional magazine for the UK's most influential alcohol consumer group. There are still those who think 'Top Totty' or 'Raging Bitch' is an acceptable name for a beer.
Diageo should not be lumped in with these examples. The opposite. Jane Walker should be consigned to a long list of brands' not-so-great ideas, but it would be a shame if this latest controversy were to overshadow the good work the company has done recently.