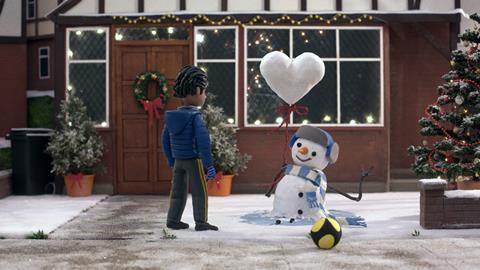 The John Lewis Partnership has launched its Christmas marketing campaign, encouraging customers to show kindness to one another.
JLP kicked off its eagerly awaited 2020 festive marketing efforts with an advert highlighting the importance of helping those in need by conducting acts of kindness. It was inspired by those seen in the community during the coronavirus pandemic and comes as part of the retailer's ongoing pledge to be a force for good.
The two-minute ad features various scenes of people helping one another, with each one connected to form a chain of giving, and characters passing a heart emblem on to the next part of the film. The storyline was designed to depict how acts of kindness could multiply and positively affect others, JLP said.
Each scene has been created by a different artist, while the soundtrack was written and performed by Brit award-winning singer Celeste. Each download of the track will see Celeste's record label Polydor contribute 10p to JLP's efforts.
The main film comes alongside a complementary 30-second ad that acts as a direct call to support food redistribution charity FareShare and family support organisation Home-Start. This was designed by postgraduate students from Kingston University.
It was unveiled on JLP's social media channels today to mark World Kindness Day, and will make its TV debut during the final of the Voice UK tomorrow (14 November).
The ads come as part of JLP's wider fundraising initiative to raise £5m to provide meals and support for at least 10,000 families through Christmas and into 2021.
The retailer is encouraging its partners and customers to get involved by volunteering in the community. A penny contribution will be triggered each time MyWaitrose and MyJohnLewis loyalty cardholders shop in store, and customers will be encouraged to donate between £3 and £20 via text with PoS signage.
Shoppers will also find a range of Give a Little Love merchandise in Waitrose and John Lewis stores in the run-up to Christmas, including a mug (rsp: £7), pyjamas (rsp: £15) and tote bag (rsp: £5). All profits from the items will go towards the appeal.
Payments to the cause will be matched by the retailer up to the value of £2m. This comes alongside a further fund of more than £1m to ensure all JLP branches can actively partner with FareShare, Home-Start and local charities for disadvantaged families.
It also pledged to continue its charitable efforts into 2021 in an effort to help those worst affected by the Covid-19 crisis beyond the festive season.
As part of the move, Waitrose's Community Matters initiative will be rebranded to form part of the new Give a Little Love campaign. Community Matters sees customers given a token at the till to place in one of three boxes, each of which is allocated to a different local cause. Waitrose supermarkets are given £1,000 to donate each month and convienience branches receive £500 to share among the three causes as a proportion of the number of tokens they have received.
JLP marketing boss Lorna Brown said it had aimed to produce an ad "with legacy" to ensure fundraising continued after Christmas.
The partnership's head of brand marketing and marketing planning told The Grocer: "This is a lifelong ambition to make a long-term difference in communities … to ensure this lives beyond this season and the pandemic. It is much bigger than the ad this year."
James Bailey, executive director of Waitrose, added: "The pandemic has highlighted the growing inequalities across the country, with those who are already most vulnerable disproportionately impacted. Each year festive adverts come and go – and some are remembered more vividly than others. But our advertising this year will leave a lasting legacy – and in that way, we hope it won't just be for Christmas.
"We did consider whether it was right to produce an ad this year at all. However, FareShare and Home-Start told us how much of a difference this campaign could make, both on a financial level and in raising awareness of the incredibly important work they do with families across the UK."