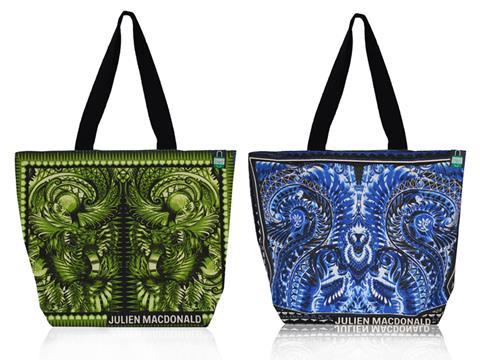 Tesco is selling an exclusive reusable shopping bag by British designer Julien Macdonald OBE in support of British fashion.
The new limited edition bag is 100% cotton and an alternative to a single-use plastic carrier bag. It comes in three different colours and costs £5, with Tesco giving 50p from the sale of each one to Graduate Fashion Week.
"This has been a brilliant opportunity to partner with Graduate Fashion Week and have a world-class fashion designer add a little glamour to the shopping experience of many of our customers," said Tesco general merchandise category director Adam Dury.
Tesco hopes to raise £250,000 for Graduate Fashion Week, which is staged every year to encourage the best new fashion talent from the UK and abroad.
The bags have been made by Bags of Ethics, which was approached by Tesco to create an exclusive collection.
Brand owner Smruti Sriram said it was trying to "put the sexy" back into retail.
"Everyone leaves Tesco with a bag, and with the plastic bag levy, we want to promote beautiful design, and functionality through these eco-friendly shopping bags, which Julien has encapsulated so perfectly."
Graduate Fashion Week takes place this year from 5 to 8 June at the Truman Brewery in Shoreditch, London, where it will celebrate its 25th anniversary. Macdonald is a Graduate Fashion Week ambassador, having been first spotted at the event in 1996 by Karl Lagerfeld, who immediately recruited him to head up knitwear for Chanel.