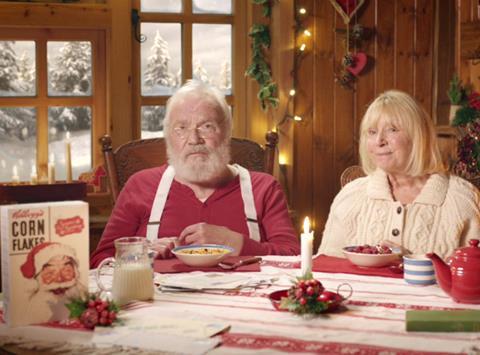 Kellogg's Corn Flakes will tonight become the latest big fmcg name to unveil its Christmas TV advert – in the latest instalment of the cereal brand's #MyPerfectBowl campaign.
The 20-second ad is scheduled to make its debut at 7.15pm during Emmerdale on ITV (20 November). It visits Mr & Mrs Claus at breakfast, where Santa reveals he likes his cornflakes with milk, a dash of cinnamon, a sprinkle of orange zest and – to his wife's disgust – "a drizzle of chocolate sauce".
Meanwhile, two elves in St Nick's workshop share their preferences, with one liking fruit and hot milk on cornflakes and the other enjoying simply cold milk.
The £10m #MyPerfectBowl push kicked off at the start of this year, and has included an April tie-up with families from Channel 4's Gogglebox show.