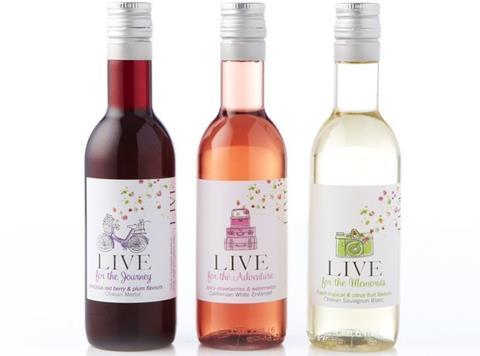 Kingsland is aiming to attract female drinkers in their 20s with new wine brand Live.
It is launching this summer, initially in 187ml PET bottles in two varieties: Californian White Zinfandel and Chilean Sauvignon Blanc. Kingsland intends the wine to be drunk with a straw and will be handing straws out with the wine at festivals this summer, including London's Holi One, for which the brand is the wine sponsor.
These will be followed later in the summer with full-sized bottles and other varieties, including red, sparkling and wine fusion drinks. The Live brand may also be used for non-wine drinks, said Kingsland.
Featuring slogans such as 'Live for the adventure' and 'Live for the memories', along with simple flavours descriptions, the brand hopes to engage consumers driven away by conventional wine marketing, claimed marketing director Neil Anderson.
"Consumers across the whole spectrum still find wine quite scary," he said. "We forget in the industry they need a bit more help navigating their way through. But it's not through talking more about the winemaker, the vineyard or the terroir - consumers just switch off. If you talk to them about the taste, take away the clunkiness from the back label – suddenly that's engaging."
Kingsland is also reopening its blending facility – called the Winery - which has been mothballed since 2004, and is building a new carbonation line, which it said would make it the only supplier in the UK to have such a facility.
The Winery, which was previously used to made fortified and British wines, is being brought back into use in response to consumers demand for a diverse range of drinks, according to Anderson. The carbonation line, which opens in October, is also intended to tap the demand for sparkling, sales of which were up 17.8% last year to £522.5m [Kantar 52 w/e 4 January].
Anderson said Kingsland's retail customers, which include Tesco and The Co-operative Group, were "chomping at the bit" over the carbonation facility, adding that "sparkling has exploded over the past few years."
"Where some of our customers have their own retailer exclusives, and those have been quite successful, we can now do a sparkling variety of that wine."